Canon rolls out RF24-105mm F4-7.1 IS STM,
a new compact versatile zoom lens for EOS R system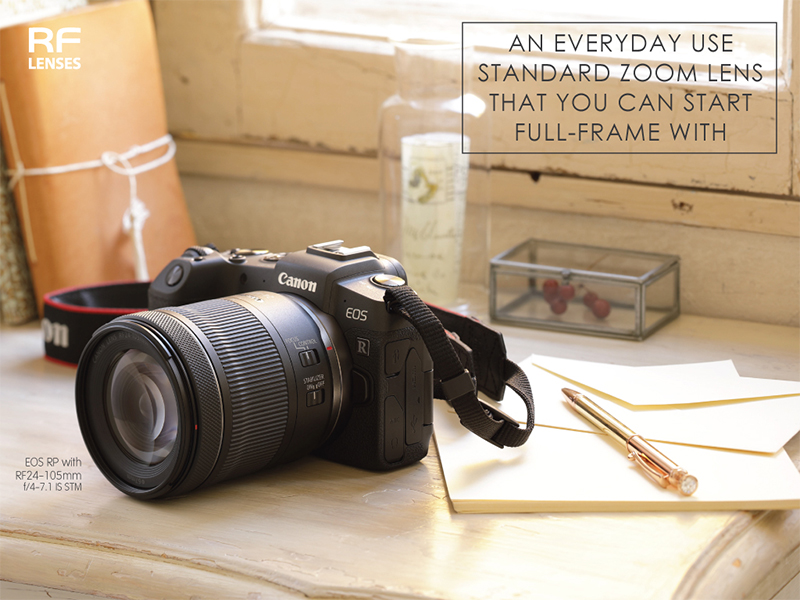 ​​​​​​​Canon has strengthened its EOS R series of photography equipment with an addition of the new RF24-105mm F4-7.1 IS STM, a compact and lightweight standard zoom lens for RF mount, with the ability to cover a spectrum of focal lengths from 24mm to 105mm for diverse shooting situations from macro to telephoto as well as video shooting. Providing high image quality, the RF24-105mm F4-7.1 IS STM is equipped with the lead screw STM (stepping motor) for high-speed and smooth autofocus, along with the Dual Sensing IS of up to five stops for still images and Combination IS for video shooting, making it ideal for users who look for a portable premium lens for everyday use.
​​​​​​​
The RF24-105mm F4-7.1 IS STM is significantly lighter and more compact than the previously launched EF24-105mm F3.5-5.6 IS STM, which has the same zoom range. It is 15.2mm shorter and 130g lighter while offering exceptional weight balance with EOS R full-frame mirrorless cameras. The RF24-105mm F4-7.1 IS STM achieves both high image quality and greater compactness thanks to RF mount's large diameter and short back focus coupled with the use of the rear lens that has larger diameter than the ones in many full-frame cameras' kit zoom lenses.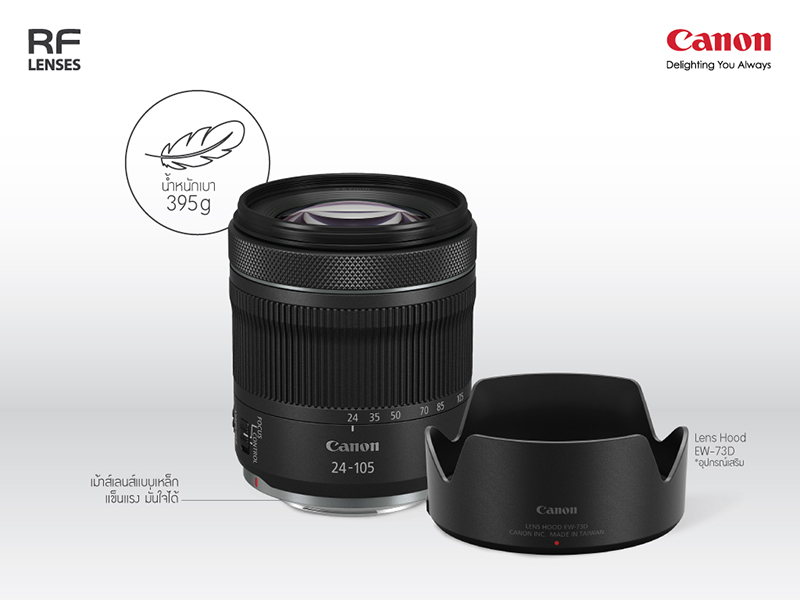 This standard zoom lens also achieves the top-level AF speed in the RF lens series by optimising the actuator control in addition to the lightweight and small focus lens and the lead screw type STM drive, enabling AF to move quickly and smoothly. Combining the lead screw type STM with the EOS R series Dual Pixel CMOS AF results in a high-speed and high-precision focus drive so that users can capture fast-moving subjects without missing the target moment. It excels at quietness, suitable for shooting stills and movie in quiet scenes.

The RF24-105mm F4-7.1 IS STM's rear lens configuration including the focus group has been optimised. With a minimum focusing distance of 0.2m (extreme wide-angle) to 0.34m (extreme telephoto), users can easily perform close-up and macro shooting with AF. When using the Centre Focus Macro mode with manual focus, the minimum shooting distance (distance from the focal plane to the subject) at the extreme wide-angle is reduced from 20cm to just 13cm with maximum magnification of 0.5x, allowing users to shoot as close as about 2.5cm away from the subject. Macro photography of small objects can be easily performed.

Taking advantage of the high-speed communication between camera and lens through the high-performance RF mount, the image stabiliser's accuracy is improved. The RF24-105mm F4-7.1 IS STM supports the Dual Sensing IS for still image, which detects shaking with a lens-based gyro sensor and the camera's CMOS sensor image information and more effectively corrects low-frequency shaking such as slow shaking of the body due to breathing. It delivers a maximum of five stops image stabilisation (according to CIPA standard when using the EOS R camera with a 105mm focal length).

For movie shooting, the Combination IS applies in-lens Optical IS together with in-camera 5-axis Movie Digital IS to enhance the correction effect. (When using Movie Digital IS, the shooting area will be slightly narrower.)

The RF24-105mm F4-7.1 IS STM comes with a switchable focus/control ring. When switched to the "CONTROL" side, functions frequently used in the camera, such as shutter speed and aperture value, can be assigned. Unlike the control ring on other lenses, it makes no clicking sound when rotating. Lens information such as focus, zoom, aperture and IS will be instantly transmitted to and displayed in the camera through the metal RF mount with 12-pin electronic contacts that improve camera-to-lens communication.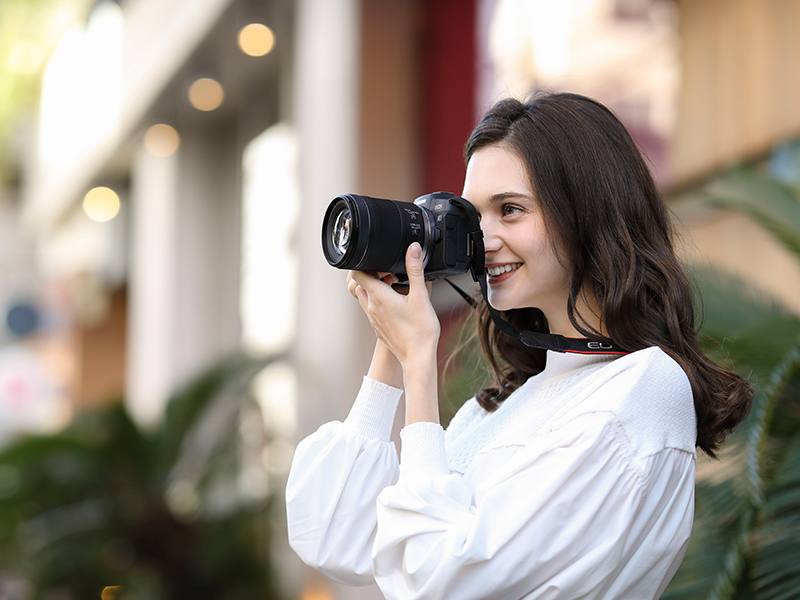 The RF24-105mm F4-7.1 IS STM standard zoom lens will be available in Thailand in May 2020 at Canon's authorised distributors nationwide.
​​​​​​​For more information, visit https://th.canon.​​​​​​​