Canon provides support to 6 schools in preparation for reopening after Covid-19 lockdown
"Big Smile with Canon" keeps students safe from Covid-19 in back-to-school season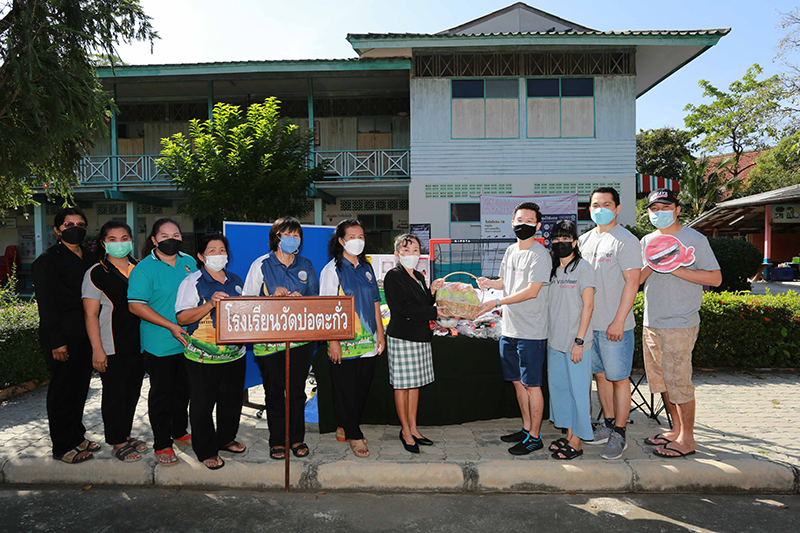 Mr. Phongthep Prasertvoranun, Corporate Communications Director, Canon Marketing (Thailand) Company Limited, together with a group of volunteer employees, organized the 28th Canon Volunteer Program under the theme of "Big Smile with Canon," which aims to ensure that kindergartens and primary school students have access to good health and are safe from Covid-19. The group provided elementary and primary school students from six schools in Nakhon Chai Si District and Kamphaeng Saen District of Nakhon Pathom Province with healthcare equipment such as thermometers, hand sanitizer dispensers, hand sanitizers, liquid hand sanitizers, liquid hand soap, face masks, as well as sports equipment including table tennis and badminton sets, footballs, and sepak takraws, among others.
The target schools for this program include Wat Bo Takua School, Wat Noi School, Khlong Thang Luang School, Wat Huay Tako School, Wat Ban Don Thong School, and Wat Thung Kra Pang Hom School, which reopened from December 1 this year.
To help stop the spread of Covid-19, the volunteer employees also took part in making transparent plastic partitions and pasting "Keep Social Distancing" stickers in the school cafeteria. Tables and chairs in the cafeteria were also repainted with the intention to put smiles back to the students' faces when they happily return to their schools.