Canon targets multiple market segments with the launch of new EOS 850D camera,
SELPHY SQUARE QX10 photo printer, and image.canon camera cloud platform
Canon has launched the brand new EOS 850D camera and the SELPHY SQUARE QX10 compact photo printer to enliven the photography market, while also introducing image.canon, a new image storage cloud platform to suit the lifestyles of today's users.

​​​​​​​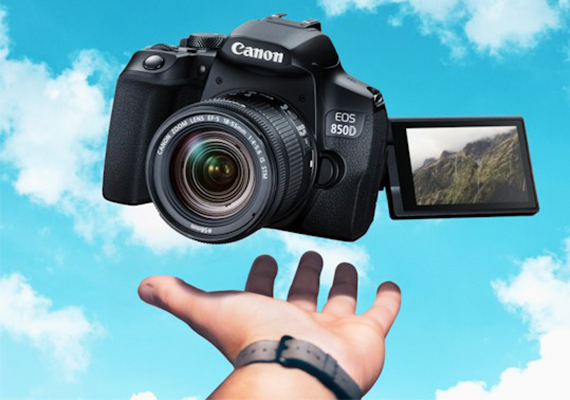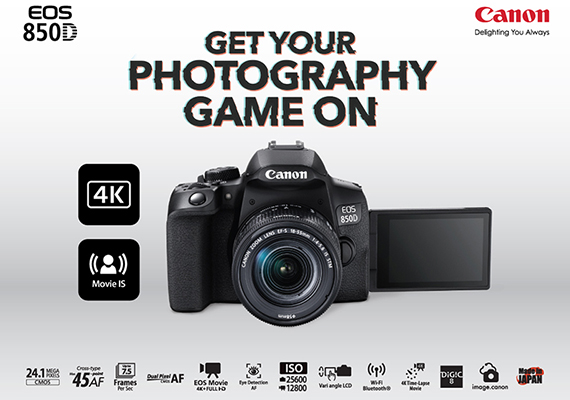 ​​​​​​​​​​​​​​
The EOS 850D is a semi-professional DSLR camera packed with advanced features for versatility of use. It is equipped with Dual Pixel CMOS AF, EOS Intelligent Tracking and Recognition Auto Focus (iTR AF) for face detection and 4K video recording for crisp and smooth footage, and built-in electronic image stabilisation. The camera is ideal for those looking to step up from smartphone photography or those looking to upgrade to a DSLR. As it combines many semi-pro features of a DSLR in an affordable package that is great for both stills and videos, the EOS 850D is the perfect companion for those looking to shoot landscapes, their travels, sports and daily life.
Weighing approximately 515g, the EOS 850D comes with a 24.1-megapixel APS-C size CMOS sensor and DIGIC 8 imaging processor for superior image quality. With an improved max ISO performance to 25,600 for still images and expandable to 51,200, the camera possesses exceptional low-light capability. It also comes with an optical viewfinder that is equipped with excellent shooting performance and controls. During viewfinder shooting of up to 7 fps, users will not experience any time lag, and with all cross-type 45 point AF, a wider area can be covered to allow flexibility in composing and tracking. With EOS iTR AF, subject tracking performance will be enhanced through a face detection function, which enables users to detect faces even in environments where skin colour detection is lost against the background. It is made possible with information from the 220,000-pixel RGB+IR metering sensor.
During Live View shooting, Dual Pixel CMOS AF on the EOS 850D makes it possible to achieve high-speed AF. When it is paired with a compatible lens, AF is possible in an approximately 88% horizontal by 100% vertical area, allowing more freedom in composition. With a maximum of 3,975 AF positions, it is possible to move the AF point smoothly, making it easier to pinpoint AF on the subject and focus as desired.
​​​​​​​Additionally, Eye Detection AF is available on the EOS 850D, enabling the camera to automatically focus on the eyes of the human subject and allowing the user to focus on capturing natural expressions while ensuring a sharp focus, even when the subject is in motion. The new Quick Control Dial allows for easy setting changes and image search, while the new AF-ON button on the back of the camera allows the user to operate autofocus separately. When shooting a moving subject, pressing the AF-ON button allows the camera to keep tracking the subject with AI Servo AF and the shutter release button allows the user to concentrate on timings their shots perfectly and not miss out on crucial moments.

​​​​​​​​​​​​​​​​​​​​​The EOS 850D is able to record 4K UHD video in 23.98p/25p format for a cinematic feel and Full HD video in 59.94p/50p format. The 4K time-lapse movie function provides ultra-high resolution through a selection of pre-set scenes or simple manual settings. Also incorporated is the in-body electronic Image Stabilisation to enable Movie Digital IS for steady vlog or handheld movies. The 3-inch 1.04 million-dot vari-angle touch panel LCD monitor makes it easy to shoot video from high or low angles. Users can expect seamless connectivity with Wi-Fi available on the camera for easy transfer of images to smartphones and laptops. Bluetooth Low Energy (BLE) is also available for remote shooting with smartphones through the Canon Camera Connect app.
​​​​​​​​​​​​​​​​​​​​​​​​​​​​​​​​​​​​​​​​​​​​​​​​​​​​​​​​​​​​​​​​​​​​​​​​​​​​​​​​​​​​​​​​​​​​​​​​​​​​​​​​​​​​
​​​​​​​​​​​​​​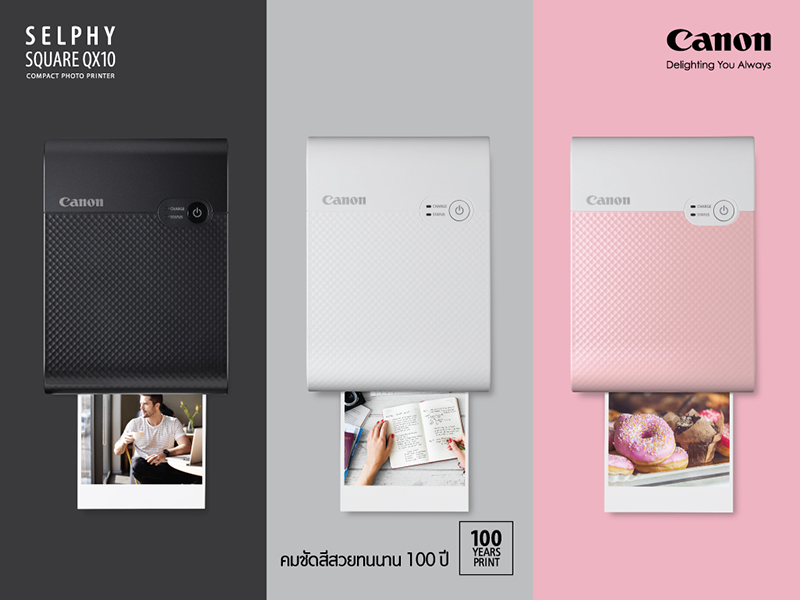 ​​​​​​​​​​​​​​
Along with the EOS 850D, Canon also launched the SELPHY SQUARE QX10, a palm-sized photo printer featuring the dye-sublimation thermal print technology for vibrant, high-quality photos. The printing process finishes with a coat of special film that gives the photo a glossy finish and protects it from water and dirt, making it smudge-free and fade-resistant. Album storage lifespan for prints is up to 100 years*, so users can be assured that the vivid memories will not fade over the years​​​​​​​
​​​​​​​(*Album storability predicted value calculated based on Digital Colour Photo Printer Stability Evaluation (JEITA CP-3901) standard, in 23ºC and 50% humidity.)​​​​​​​​​​​​​​

​​​​​​​​​​​​​​Printing photos from your smartphone, from selfies to holiday pictures, is a breeze with the SELPHY SQUARE QX10. Simply turn on Wi-Fi to connect the phone to the printer. It is capable of social media-friendly square-formatted prints as well as peel-and-stick photos. With the SELPHY Photo Layout 2.0 app, users can experiment with a myriad of layouts to create a variety of designs on prints and stickers, which can be used to personalise everyday items – from laptops and mobile phone covers to notebooks or even room walls.​​​​​​​
​​​​​​​Weighing merely 445g and only slightly bigger than your palm, the SELPHY SQUARE QX10 is a highly portable device that fits easily into a handbag or backpack for spontaneous photo sharing. With a built-in battery, you can print your memories anywhere and conveniently charge the device using a power bank. Sporting a minimalistic design, the SELPHY SQUARE QX10 is available in three stylish colours of white, pink, and black.
​​​​​​​​​​​​​​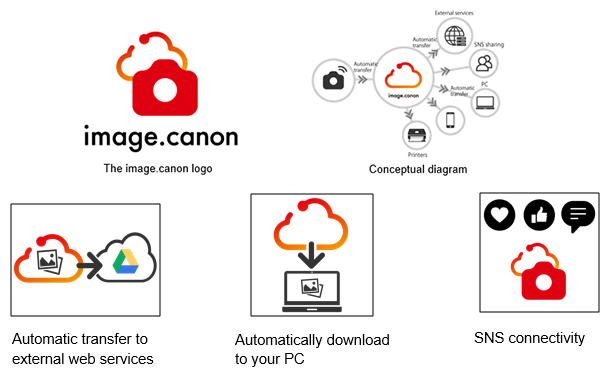 ​​​​​​​​​​​​​
Moreover, "image.canon" was introduced as a new cloud platform that connects Canon cameras with users' PCs, smartphones and external web services. Set to commence operation beginning of April 2020*, image.canon enables users to automatically** upload image and video files*** in their original quality straight from cameras equipped with automatic image transfer functionality via Wi-Fi. It also makes possible the transfer of image files to connected PCs, smartphones and external web services, improving post-shoot workflows for professional photographers, image editing enthusiasts and entry-level users who want to share their images on social media.
​​​​​​​
​​​​​​​Future Canon cameras will be equipped with automatic image transfer functionality and image.canon will store upload images and videos files for up to 30 Days****. After the 30-day period, users can opt to continue storing the uncompressed data by migrating it to a 10-GB long-term storage account*****
​​​​​​​
The image.canon service will enable the automatic transfer of images to users' accounts on such services as Google Drive. Starting from June, it will expand both its partnership with Google Photo to include original quality backup via Google One, a membership plan for expanded storage, and its partnership with Adobe Creative Cloud. In addition to automatic transfer of images and the ability to edit images in their original quality on partnered services and applications, image.canon will make it easier for users to store and share their images.
​​​​​​​
​​​​​​​As AI and 5G technologies are implemented, Canon will continue to propose new ways to enjoy photography by enabling cameras to communicate in both directions, such as remote, real-time editing of photos and videos captured at outdoor events, cloud-based RAW image data editing and capture assistance tailored to users' preferences.
​​​​​​​
​​​​​​​* The CANON iMAGE GATEWAY Online Album Service will end operation on March 16, 2020, and image.canon will be a successor to the service. From the beginning of the data migration period on April 1, 2020 until its completion, users will not be able to access any image files or albums already uploaded to the service.
​​​​​​​
​​​​​​​** All Canon cameras released before the EOS R5 will, at minimum, support manual file transfer. Manual file transfer will be enabled from the start of the new service in April 2020. Automatic file transferring, available for cameras equipped with the automatic file transfer function, beginning with the currently-in-development EOS R5, requires users to connect the camera to a Wi-Fi access point that has been registered in advance.
​​​​​​​
*** Original images are stored for 30 days from upload. There will be no capacity restrictions in general, however due to operational reasons to provide the service, there may be cases to restrict uploads
​​​​​​​
**** When uploading an original image file, a thumbnail file (up to dimensions of 2048 pixels) will be automatically generated and stored. Thumbnail files can still be viewed on image.canon at any time, even after expiration of the 30-day period following the original upload.
​​​​​​​
***** Any file, including thumbnails, which the user does not access via image.canon for an entire 1-year period will be deleted from the service.