Canon and Brother jointly launched "Only the Genuine Will Know"
project to promote genuine printing materials and create the next normal for smart quality printing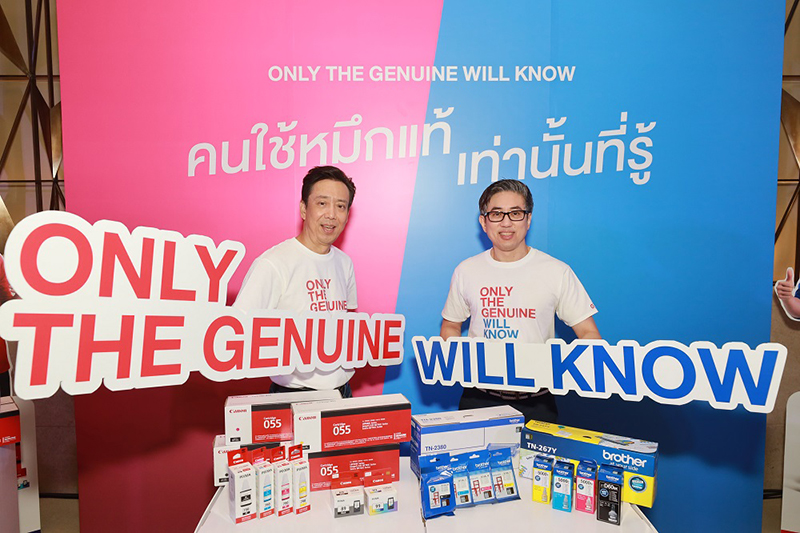 Brother and Canon, Thailand's two leading printer manufacturers, announced an initiative strategic partnership to launch a campaign "Only the Genuine Will Know" to raise awareness of the obvious advantages of using genuine printing consumable, both ink and toner, compared with compatible and counterfeit cartridges. The campaign is aimed at encouraging printer users to use only genuine ink cartridges for the best print quality, optimal printer performance, and long-term cost-effectiveness. Moreover, by using only genuine printing consumable, users do not run the risk of voiding their warranty and of health hazards and also help save the environment.
Mr.Teerawut Suppapunpinyo, Managing Director of Brother Commercial (Thailand) Limited revealed the details of the collaboration with Canon that it was found at the service centre that one of the major causes of printer failure is the use of compatible or counterfeit printing consumable which has had an adverse effect on Thai consumers. Therefore, Brother announced a joint initiative with Canon to launch a campaign "Only the Genuine Will Know" to encourage consumers to use only genuine printing consumable, and to develop awareness of the possible disadvantages of using compatible and counterfeit counterparts among users.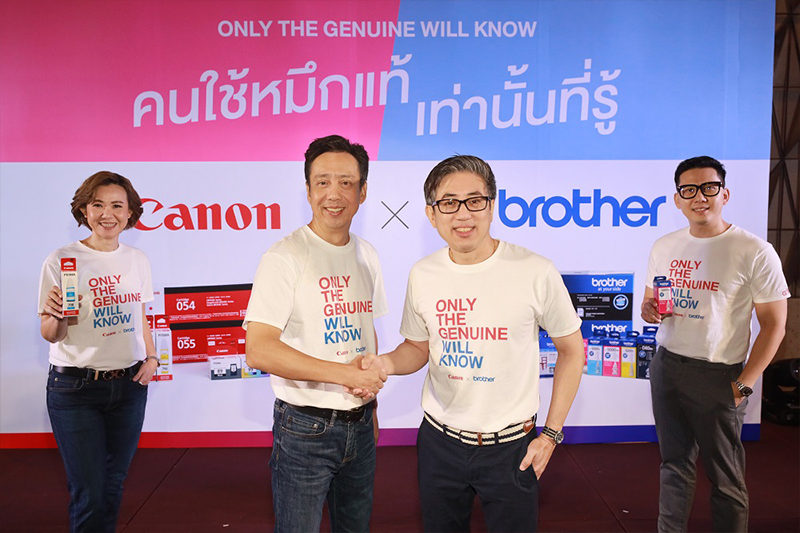 "In general, two common types of printing materials currently available in the market include ink and toner, which Brother offers both to satisfy the particular needs of all target customers. Each year Brother's R&D team conducts research and develops the efficiency of printing consumable to ensure the customers' satisfaction in all aspects whether it is the quality of printing, the cost of printing, ease of use, and health and environmental safety according to Brother's philosophy of business "at your side". added Mr.Teerawut Suppapunpinyo.
Mr. Na-ake Songsiri, Deputy General Manager of Sales and Marketing of Brother Commercial (Thailand) Limited said that Brother printing consumable, both ink and toner, acquire MSDS safety standards with the number of printable pages according to ISO standards. Therefore, users can be confident about the high quality of Brother printing consumable. Brother genuine printing consumable which can be verified at https://www.brother.co.th/th-th/support/genuine-supplies can be purchased both online and offline channels nationwide. To encourage users to use only genuine printing consumable, Brother is currently offering Naraya Exclusive Grand and Great bag, a special gift created especially for this project, to customers who purchase Brother genuine printing consumable."
Mr. Hiroshi Yokota, President and Chief Executive Officer of Canon Marketing (Thailand) Co., Ltd. said that Canon and Brother, the two leading printer maker brands, have greater than 61% of the combining market share of inkjet printers and more than 50% of laser printers. With the policy focusing on maintaining quality standards of the products, customer care and protecting the customers' interests, we are aware that the majority of consumers nowadays still do not know the differences between genuine printing ink and compatible or counterfeit products, the benefits of using genuine products and potential problems from using compatible and counterfeit products. Therefore, the campaign "Only the Genuine Will Know" is collaboratively organised to resolve an issue of misunderstanding of users by transforming their idea of "I think" into "I know", which represents understanding of the advantages of using genuine printing materials comprising:
Higher print quality with sharp, detailed and clean printout
Covered by the product warranty, which will be voided if compatible and counterfeit printing materials being used
Hassle-free and reliable
Gaining full benefits including discounts, promotion and aftersales services" So that , we believe consumers can protect their rights and best interest, and most importantly that they will gain the best experiences with our products, which is our long-standing commitment according to our 'Delighting You Always' motto."
Meanwhile Ms.Netnarin Chancharassuk, Director of Printer Product Group, Canon Marketing (Thailand) Co., Ltd. said that the print quality problems include dull colours, blurry or smeared printout, unwanted marks on the document, paper misfeed, faded colours, and clogged print nozzles, many cases of which are caused by the use of cheap, low-quality compatible or counterfeit ink or toner cartridges. With the quality inferior to the genuine printing materials which the users might be unaware, these third-party ink cartridges can damage a printer and print nozzles, and thus affect the quality of printout. Besides, when buying a printer with refilled ink from a shop or an online store, it is impossible for users to identify the genuineness of the refilled ink, or they might opt for cheaper ink because they are unaware of its lower quality. When there is an issue of print quality, they tend to assume that it is caused by the printer. This affects brand image and brand credibility of the printer manufacturer.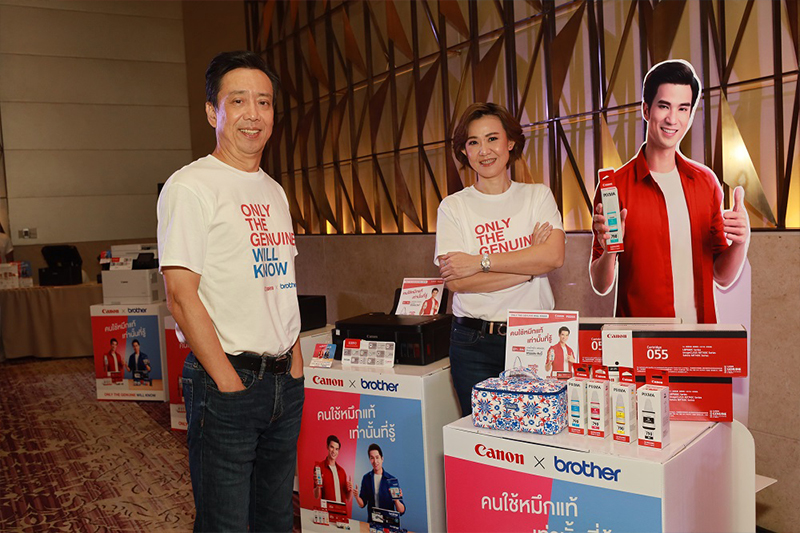 The campaign "Only the Genuine Will Know" aims to create understanding among printer users and the general public with four key objectives including:
To increase public awareness of the advantages of using printing materials and the disadvantages of using compatible and counterfeit products
To enable users to identify the genuine printing materials by checking and examining the hologram sticker on the package
To encourage users to purchase printing materials from certified retailers both from online and offline channels by purchasing a printer with ink bottles or ink cartridges on display which allow users to check and identify the genuineness of the product, rather than purchasing one with refilled compatible or counterfeit ink bottles or cartridges.
To enable users to use printing materials to their full potential with confidence in their quality and value for money as well as extension of the lifespan of printer.
The spread of the Covid-19 pandemic has led to the new normal lifestyle which has a tremendous impact on consumer behavior. Such daily activities at work and school have been shifted to online platforms and undertaken remotely, resulting in higher demands for printers and related products. This change has spurred sales growth of printers especially via online sales channels. However, with lower prices offered, users may face the risk of purchasing low quality, compatible or counterfeit ink and toner. In addition, Do-It-Yourself (DIY) has recently become an increasingly popular consumer behaviour which makes it more common for users to refill ink cartridges or replace toner cartridges themselves. Brother and Canon therefore created new easy-to-use and low-maintenance products and developed efficient channels like e-commerce and e-store to cope with future demands and facilitate efficient workflow of our customers. However, although the prices of genuine products are generally higher, consumers can be assured of their efficiency and long-term cost-effectiveness.
This campaign will be promoted through online and offline channels, and at point of purchase. In-store activities will be held and special gifts from Brother and Canon will be given today - 31 December 2020.