4 creative service ideas that meet the stay-at-home lifestyle,
plus valued promotions that make your work from home a breeze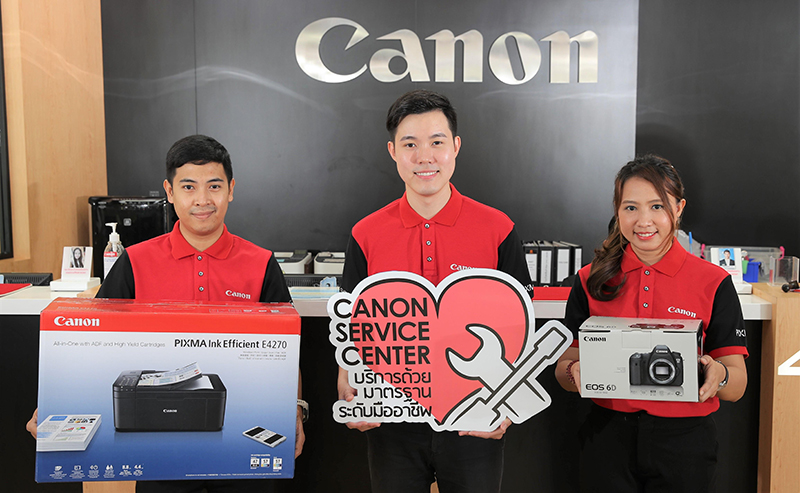 The current COVID-19 situation remains a matter of grave concern and it continues to affect people from all walks of lives. Students have to study online while businesses need to adjust the way they operate and office workers are being forced to shift to work from home. Day-to-day work has become increasingly dependent on various devices to keep everything up and running. And of course, daily expenses in this kind of situation need to be carefully controlled.
Sometimes, the unexpected may occur and the expenses incurred by equipment maintenance cannot be avoided. But there's some good news too. From now on, users of printers and imaging devices will no longer need to worry about those expenses. Canon well understands the current situations, including the inconvenience of travel and financial difficulties. It has therefore launched some amazing new services and promotions to help everyone to work through the most efficient devices and live a safe life at the same time.
Netnarin Chancharassuk, Director of Printer Product Group, Canon Marketing (Thailand) Co., Ltd. who is also in charge of the company's Camera and Printer After-sales Service Department, said: "Businesses and organizations have been asked to shift to 100% work from home as more measures are taken to curb the latest wave of Covid-19. Canon understands the concerns that users of our products may have, from the inconvenience when traveling to the service center to the maintenance costs. Therefore, we have adjusted the maintenance service model to ensure users will be able to work smoothly through Canon products. It also helps reduce the burden of expenses. Special offers include discounts up to 70% on Canon camera and lens cleaning services, pick-up and delivery service for Canon printers, cameras, and lenses from home to the nearest service center, on-site maintenance service for printers by well-trained technicians, and 2X warranty extension."
"Additionally, Canon is offering free online courses on digital photography to enhance user's skills in photography and related practical knowledge. Conducted by Canon specialists, these online courses are expected to enable any enthusiasts to continue to learn while they are safe at home.
Dust off your favorite photographic devices without losing all your money:
Check out the "Clean Your Camera Lens and Get an Instant Discount" promotion
A set of camera and compatible lenses continue to be an essential tool for new-generation content creators as well as photographers who are interested in making money with stock photography. In this situation, many people may be worried about the cost. But it's still important to keep your equipment running at peak performance.
Canon, therefore, is offering a special promotion to ensure Canon camera users get proper lens cleaning by professionals at an affordable price. Get a heavy discount of up to 70% on lens cleaning service when sending a set of Canon camera with the lens in warranty to the service center for cleaning. This offer is for an unlimited number of sets per customer (one set means one camera and a maximum of two lenses). However, the offer is for internal or external cleaning only.
Anyone looking to dust off their favorite cameras and lenses can request this exclusive promotion from today until September 30, 2021.
When your printer, camera, and lens get a bit confused and need to be repaired but you don't want to travel, there's no worry because Canon is providing pick-up and delivery service.
During work at home nowadays, some people may face problems with equipment that does not work properly and need to be repaired to keep them up and running. However, they want to avoid traveling. This issue is about to go away as Canon is offering a delivery service and a special discount on maintenance.
Pick-up and delivery service for printers that need to be repaired at the nearest service center. The service fee is only 200 baht (round trip) for printers under warranty and 300 baht (round trip) for out-of-warranty printers.
Pick-up and delivery service for all models of Canon camera and lens that are sent to the head office's service center for repair.

For Bangkok and surrounding areas, repair options include a normal repair package (part replacement) within 15 working days and same-day repair service (cleaning only). The pick-up and delivery service cost 200-300 baht, which starts from today and will continue until September 30, 2021. This service meets the needs of customers' lifestyles in the New Normal, significantly providing them with a comfortable and worry-free work environment.
Wherever you are, Canon's on-site service is ready to fix your printers at your premise in a quicker and heartwarming way.
Some home users as well as small home offices and enterprises require large laser printers or multifunction devices with print, scan, and copy capabilities as well as software installed to make their work easier. When problems occur and they need an expert to help fix their printer promptly, Canon offers on-site service with specialized technical support staff to repair printers for customers onsite in Bangkok and surrounding areas. The on-site staff strictly adheres to COVID-19 preventive guidelines. Every piece of equipment is thoroughly sanitized, and the staff wears masks and gloves throughout their working hours.
On top of that, Canon is offering a warranty extension for eligible products. The 2X warranty extension covers parts after repair from 3 to 6 months and maintenance fee after repair from 1 to 2 months. This applies to inkjet printers, laser printers, Pro-series printers, and wide format printers, and is valid today until September 30, 2021.
EOS ON AiR – Online courses that help you expand your business horizon with Canon cameras
To meet the needs of the New Normal lifestyle, Canon has also transformed its in-class learning programs where users have to attend a specific physical class at Canon's head office into online courses. These provide users with useful advice and upskilling opportunities for better use of their Canon cameras. Moreover, the courses are designed to enable users to take advantage of today's emerging social commerce trends such as live streaming, selling products online, teaching or creating an online course, and casting games.
The course content ranges from basic to advanced levels and is ideal for different categories of users. For instance, the Facebook Live course shares live streaming techniques, photography tips for online selling and promotion. Closed group training featuring in-depth knowledge of specific topics of interest is also available. The latest service like Virtual Touch & Try has been designed for anyone interested in buying a camera and lens, or those looking for more information and greater understanding or still having some questions about the product. Therefore, Canon has brought the storefront to the Internet to enable customers to try various features they are interested in and talk with product specialists – feeling as if they were shopping in an offline store.