Canon unveils 3 New Remote Cameras
and 1 Remote Control Panel for Remote Video Production over IP
The Next Level of innovation that make more convenient.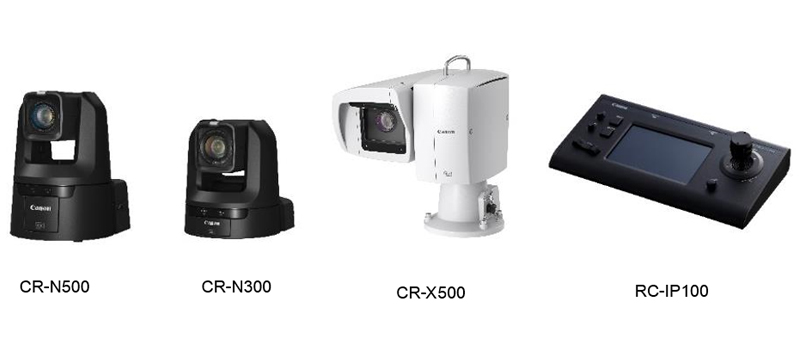 For product introduction, pleas click
After Canon has continually focused on creating innovative products and technology to market, recently Canon has developed a new remote camera system for video production that allows for remote production using IP[1], with three new camera models including CR-N500, CR-N300 and CR-X500, and 1 new remote-control pane, RC-IP100, to be released sequentially from the end of April 2021. Starting with these three models, Canon will expand its product lineup and expand the range of video expression through remote production to meet various video production needs as well as to serve the needs of consumers in the digital age that enable to access video content at any time.
In recent years, the need for remote production using IP has been increasing for the video production market. In this context, Canon will launch a new remote camera system for video production that enables the pursuit of high image quality and efficient shooting workflows by combining its imaging and network technologies which have been cultivated over many years. This remote camera system comprises a series of products that support the newly developed IP XC Protocol[2] that controls Canon's video production devices, which allows for efficient shooting in a wide range of scenes by linking compatible products over a network.
Moving forward, Canon will expand its product lineup and develop further in the area of video expression by providing firmware[3] that support this remote camera system to the CINEMA EOS SYSTEM cameras.
Heightened Efficiency and Reduction of Human Resource at Video Production Sites
CR-N500/CR-N300 are 4K PTZ (pan, tilt and zoom support) remote cameras that offer high image quality, image shading and IP compatibility equivalent to professional camcorders. In addition to SDI and HDMI, it also supports NDI|HX[4] which is popular in the video production field. As such, it is possible to construct a flexible system. Also, bundled with Remote Camera Control application, it is possible to control multiple cameras[5] on the IP network from a computer, thus reducing the number of staff for shooting and operating, which allows for smaller production teams.
Remote Control of 4K PTZ Remote Cameras
The remote camera controller RC-IP100 supports both IP and serial communication. It remotely controls CR-X500 via serial communication and uses XC protocol for both CR-N500 and CR-N300. It can configure a system with up to 100 cameras[6]. Since it can control the cameras installed indoors and outdoors despite being far from the shooting location, it is possible to handle a wide range of shooting requirements.
Remote Camera Market Trends
With the widespread use of devices such as tablets and smartphones, video content is available to consumers regardless of time or place. Due to this, the demand for video content has expanded rapidly in recent years, prompting the growth of video production and distribution in both live and recorded formats. Due to the impact of COVID-19, remote video production and video streaming are accelerating. For example, video streaming of classes in the education field and video streaming of seminars in the business field are becoming widespread. In the broadcasting field, broadcasting stations and production companies are constructing program production environments using remote cameras. In response to this growing demand for video content, there is a growing need for products and solutions that can reduce costs and human resources in video production sites. (Canon survey)
[1] An abbreviation of Internet Protocol. Communication method for exchanging information on Internet.
[2] CR-X 500 is not supported.
[3] Supported models will increase gradually.
[4] A protocol developed by NewTek that supports the workflow of live video production over IP networks. NDI is a trademark or registered trademark of NewTek, Inc. in the United States and other countries.
[5] The supported cameras are CR-N 500/CR-N 300. As of March 18, 2021.
[6] Only one CR-X500 can be connected via serial communication.