Canon unveils Canon XF605, 4K professional video camera with
Canon Canon10x16 KAS S lens, small zoom lens for advanced 8K broadcasting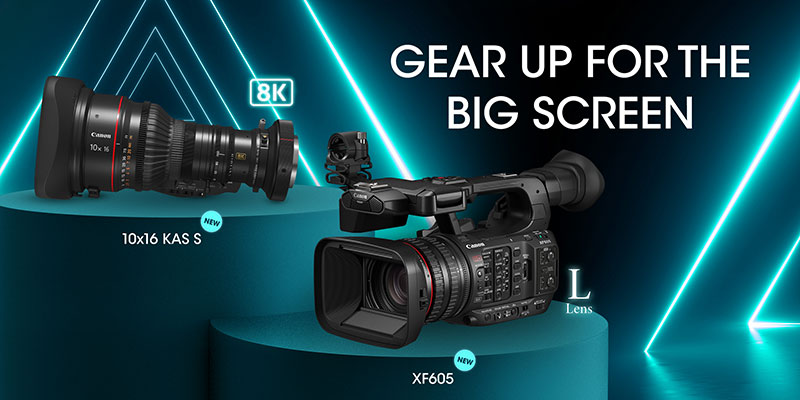 Canon today announces the launch of two solutions which address the changing needs of the broadcast and production industries, including the compact, yet powerful Canon XF605 professional 4K camcorder and Canon10x16 KAS S 8K BCTV zoom lens. Designed with single-operator shooting styles, the Canon XF605 builds on the renowned XF series, making this portable camcorder a powerhouse for news gathering and studio productions. Equipped with a L-series lens to meet industry standards, these new products offer production teams a suite of solutions capable of achieving high image-quality in any shooting environment. The Canon10x16 KAS S is proof of Canon's exceptional optical technology, meeting the demand for high-resolution 8K production in sports and documentary. Expanding Canon's line-up of ultra-high-resolution 1.25" 8K broadcast camera lenses, which includes the UHD-DIGISUPER 51 and 7x10.7 KAS S, the Canon10x16 KAS S offers impeccable optical performance in a compact form factor.
Canon XF 605- The Next-generation 4K Professional Camcorder with High performance 4K VIDEO L LENS
Canon XF605, a new XF-series professional-use camcorder with a 1.0-inch CMOS sensor and the ability to record 4K/50p/4:2:2/10-bit/HDR video to SD cards. Featuring high-image quality comparable to the XF series flagship model (the XF705 released in November 2018), the Canon XF605 has a compact body for greater portability. The new camcorder also delivers improved AF and transmission functionality, making it ideal for genres such as broadcast journalism and event coverage that demands immediate responsiveness and single-operator shooting styles
Featuring a L (Luxury) Series lens, a 1.0-inch CMOS sensor and a DIGIC DV7 image processor, the Canon XF605 enables users to capture high-quality 4K/50p/4:2:2/10-bit HDR video. In addition, users also have the option of high-image-quality HDR recording and high-framerate 120 FPS recording in Full HD.
Variety of IS Modes are available to select for image stabilization control. While internal placement of the ND filter allows users to control aperture values even when shooting outdoors in strong sunlight, enabling richer visual expression. This allows various shooting techniques, including bokeh shots using the large 1.0 inch sensor even during daytime, or video with slow shutter speed.
Canon XF605 enhanced recording mode that flexibly supports various shooting scenes as Slow & Fast motion (up to 120P), Slow & Fast motion (Simultaneous Audio recording), Pre-recording (3 sec.), Frame recording and Interval recording.
The Custom Picture file has been expanded to include new BT.709 variation/EOS Standard/EOS Neutral settings. These can be used in a wide range of production environments
Canon XF605 supports both HLG and PQ formats for HDR, enabling on-the-fly HDR operation according to delivery needs. It also features Canon Log 3, which enables post-production processing and is used in the XF705, CINEMA EOS and other systems.
First in XF Series camera equips High Sensitivity mode to lets users shoot at sensitivity that is one step brighter than normal (2000 lux sensitivity equivalent to F12) also support Dynamic diffraction correction that makes it possible to give pro-use video cameras the diffraction correction algorithm featured in CINEMA EOS.
It corrects the blur caused by small-aperture diffraction that happens when shooting in pan-focus, allowing users to shoot with even smaller apertures than before.
With Dual Pixel CMOS AF[1] technology—an autofocus technology in which each effective pixel on the CMOS sensor can perform both phase-difference autofocusing and imaging functions—the Canon XF605 achieves high-speed and high-accuracy focusing. In addition, the new camcorder is the first XF series model to include eye and head AF, as well as improved face detect AF, enabling more accurate and stable tracking of subjects.
The new camcorder also offers more intuitive operation through features such as touch-panel menu operations and a replay mode.
Designed to be highly portable while retaining three lens rings for enhanced operability, the new camcorder weighs approximately 600 grams less than the XF705—more than a 25% reduction in weight—and has a compact body that is about 10% shorter in both length and height.
The newly 'Browser Remote' ideal for single-operator shooting makes operation easy with smartphone in hand.
Using the newly released CTM[2] mobile app for iOS, the Canon XF605 can connect and transfer recorded video data via cable[3] or wirelessly to iOS devices and transfer data to FTP servers at broadcast stations or other locations, thus enabling faster and more efficient workflows for broadcast operations.
Canon 10×16 KAS S Portable Zoom Lens - Expands Line up of Ultra High Resolution 8K Broadcast Camera Lenses with employing a 1.25-inch type sensor
Canon10×16 KAS S, developed through the union of Canon's optical technologies, this new portable zoom lens is designed for 8K broadcast cameras. There has been growing demand in recent years for high-resolution video production, especially in such fields as international sports event broadcasting and documentary filmmaking. With the release of the Canon10×16 KAS S, Canon helps meet the need for increasingly high resolution by expanding its lineup of ultra-high resolution 8K portable zoom lenses.
Equipped with such lens elements as fluorite, UD lenses[4] , Hi-UD lenses[5] and wide-diameter aspherical lenses, the Canon10×16 KAS S helps reduce chromatic aberrations, spherical aberrations and other effects that reduces image quality. In addition, Canon has used its optical simulation technologies acquired through its history to determine the ideal placement of lens elements, as well as high-precision manufacturing operations and assembly technologies that greatly reduce manufacturing errors. This means that throughout the entire zoom range of the lens, there is extremely high image quality from the center to the edge of the frame, enabling capture of high-resolution and high-contrast images required of 8K content.
The Canon10×16 KAS S maintains a fast aperture of f/2.8 across the entire zoom range, which spans 16mm at the wide end to 160mm at the telephoto end. This 10x zoom magnification and bright aperture make the lens ideal for events such as sports and live broadcasting, which often involve frequent changes in focal length, to provide immersive and high-resolution imagery with incredible visual expression.
The Canon10×16 KAS S also employs a high-performance digital drive unit utilized by the high-resolution 16-bit absolute value encoder digital drive unit. This drive unit has a proven record of use in 2/3-inch 4K broadcast zoom lenses. This allows for high-precision position detection and enables easy completion of calibration that is required when handling both real and virtual images. Thanks to these features, the new lens ensures high operability for on-location visual production as well as extremely easy integration into high end broadcast infrastructure that is already in the market.
[1]Focus area is approximately 80% (vertically) x 80% (horizontally)
[2]Content Transfer Mobile, a paid application to be released in mid-October 2021. Compatibility will gradually be extended to additional devices.
[3]Compatible USB cable (sold separately) required when transferring data via wired connection.
[4] A lens element utilizing ultra-low dispersion (UD) glass.
[5]Hi-UD lenses realize further improvements in performance over UD lenses.