CMT held Canon Volunteer #30 activity
Go for Green at Khun Dan Prakarn Chon Dam, Nakhon Nayok province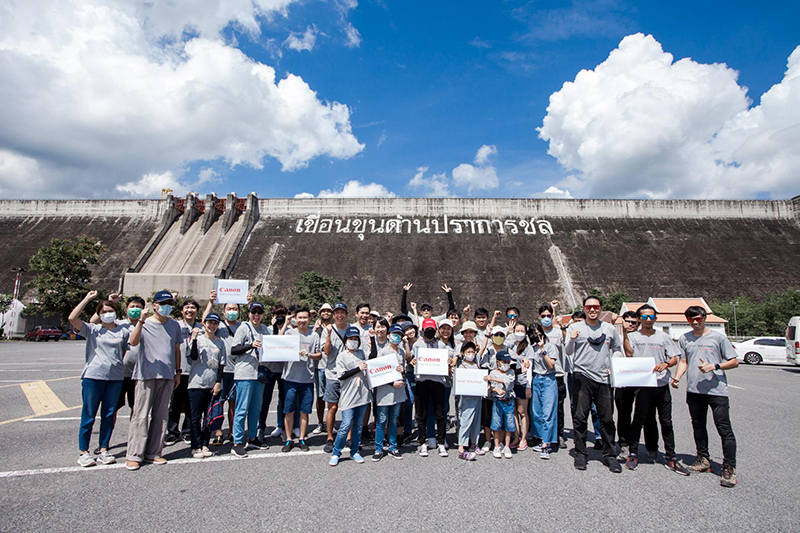 Canon Marketing (Thailand) Co., Ltd. recently organized Canon Volunteer#30 "Go for Green" at Khun Dan Prakarn Chon Dam, Nakhon Nayok province, in collaboration with the Royal Irrigation Department and Department of National Park, Wildlife and Plant Conservation. 31 volunteer staff, plus 6 family members including kids, took a creative approach to boosting forests by planting 1,000 afzelia xylocarpa trees (locally known as Makha Mong, a shading tree with wide-ranging branches, providing a good wind barrier and protection from water-driven soil erosion), with use of slingshots to disperse the seeds, provided by the Royal Irrigation Department, to inaccessible empty space in the forest.
In addition, all the volunteers released captive-bred Mekong giant catfish (the world's largest freshwater fish, ranked as critically endangered species on the brink of extinction in the wild with significantly declining population over the past several years) into the reservoir. The activity ended with the volunteers planting 200 thorny bamboo trees at a local school on the outskirts of Khaoyai National Park to prevent wild elephants from roaming into the local communities. Due to the rising number of human-elephant conflicts, the Department of National Park has come up with a new idea of containing the wild elephants by growing thorny bamboo fences around the communities to bring human-elephant harmony back to Khao Yai National Park. Canon Marketing (Thailand) Co., Ltd. also donated a PowerShot SX70HS camera to Khao Yai National Park to support their forest surveys and patrols.
This Canon Volunteer activity is part of CSR activities under Canon's corporate philosophy of "Kyosei" which means "living and working together for the common good". Canon Marketing (Thailand) Co.,Ltd. has continued to conduct business in conjunction with environmental conservation and community contribution to achieve the Sustainable Development Goals. (SDGs) adopted by the United Nations.