Canon Volunteer supported "WON" project.
by collecting 100 Kg of stretchable plastic waste for recycling process.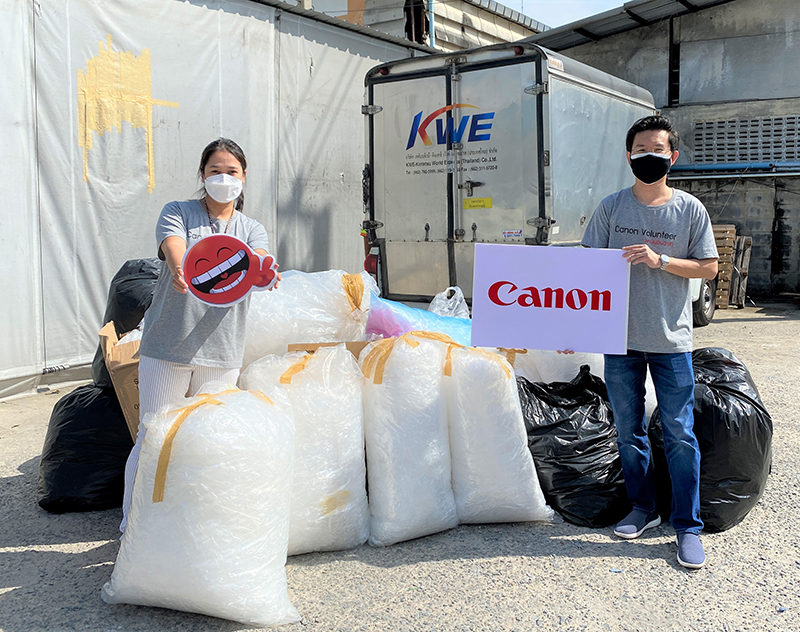 Canon Marketing (Thailand) Co., Ltd. organized an environmental promotion activity named "Stretchable Recyclable" in which employees sorted and collected dry stretchable plastic waste, such as plastic bags, envelops, plastic shockproof, as well as stretchable plastic materials left over from daily operations, to be donated to the "Won" project, a recycling project to help reduce the plastic waste problem. The donated plastic waste will be processed into new plastic pellets and turned into reusable plastic bags. Mr. Phongthep Prasertvoranun, Director of Corporate Communications - Canon Marketing (Thailand) Co., Ltd. represented all Canon Marketing Thailand employees to deliver 100 kgs of stretchy plastics to the "Won" project at TPBI Public Company Limited, Sampran, Nakhon Pathom recently.
This activity is part of Canon's social contribution activities under its corporate philosophy 'Kyosei', which promotes "Living and working together for the good of the common good." With environmental sustainability in mind, Canon strives to develop technological advancements, while focusing on reducing environmental impacts in a sustainable manner.