Canon officially launches EOS R full-frame mirrorless camera,
RF lenses and compatible equipment in Thailand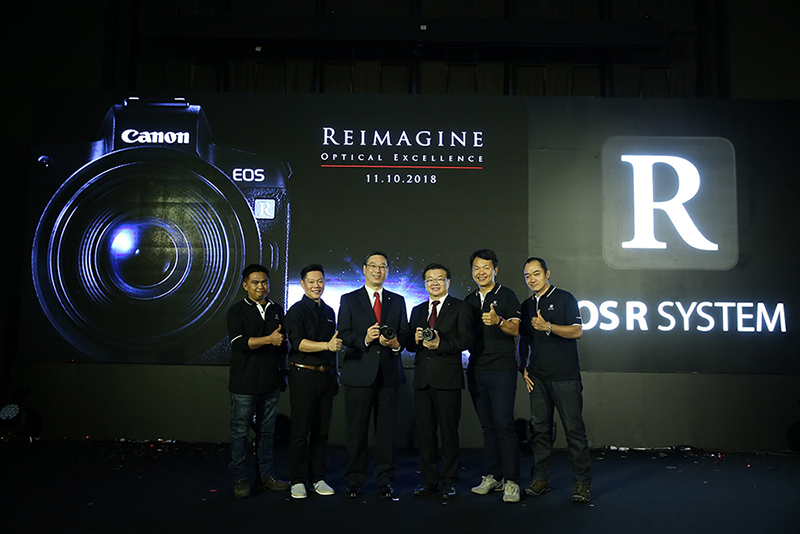 Canon, a leader in digital photography and imaging technology, today officially introduced the Thai audience to its first full-frame mirrorless camera, the revolutionary EOS R, along with four brand-new RF lenses and three types of RF mount adapters to allow the flexibility of using EF lenses with the new EOS R. A compact Speedlite external flash was introduced together to ensure that users have all the necessary tools to make their vision a reality.
Warin Tantipongpanich, Vice President – Product Group at Canon Marketing (Thailand) Co.Ltd, said: "Canon is committed to the development of new technologies for cameras and lenses to fulfil the needs of professional and amateur users throughout the ages. The EOS R System is created with the concept of 'Reimagine Optical Excellence' because we believe in establishing new heights, redefining photography limits as we know it so as to convey the user's creativity in conditions not possible before. We also keep in mind the notions of "Fast – Comfortable – High image quality" which are the basic concept of EOS up until now"
The EOS R is equipped with a 35mm 30.3-megapixel CMOS image sensor and the new 54mm-diameter RF mount to pair with the new RF series of lenses through 12-pin contact points for enhanced communication between the lens and camera. When using RF mount adapter, the EOS R is compatible with all existing EF and EF-S lenses. The camera sports the DIGIC 8 image processor, Dual Pixel CMOS AF with the fastest-of-its-class focusing speed of 0.05 second, as well as 5,655 autofocus positions covering 100% of image vertically and 88% horizontally when used with compatible lenses. Precise focus is attainable even in extreme low-light conditions of EV -6.
The 3.69-million-dot OLED electronic viewfinder (EVF) provides 100% coverage. The EOS R is the first Canon camera to feature FV exposure mode, allowing auto and direct control in one single mode for shutter speed, aperture and ISO sensitivity without looking away from EVF. The ISO sensitivity range of 100-40,000 makes shooting in low-light scenes achievable. The camera also has the Auto Lighting Optimiser and Dual Sensing Image Stabilisation of up to five stops for stills shooting. Its touchscreen is a vari-angle LCD, with Touch & Drag function for shifting the AF point around using the touchscreen even while looking through the EVF.
The EOS R records in Ultra high Definition 4K at 30p/25p (3,840 x 2,160 pixels) video and supports Canon Log previously available in Cinema EOS System. It can make 1/8 stops aperture adjustments during video recording when paired with RF lenses. Optional C-Raw recording format is available. The ergonomic design of the EOS R is expressed through its deep grip and well-balanced structure. The body is made of magnesium alloy with dust- and moisture-resistant sealing.
Canon also unveiled four brand-new RF lenses: RF 24-105mm f/4 L IS USM, RF 50mm f/1.2 L USM, RF 28-70mm f/2 L USM, and RF35mm f/1.8 MACRO IS STM, along with three mount adapters namely Mount Adapter EF-EOS R, Control Ring Mount Adapter EF-EOS R and Drop-in Filter Mount Adapter EF-EOS R. Battery grip BG-E22 and the Speedlite EL-100 compact external flash are also on offer to satisfy shooting requirements of camera users.
The launch event included a special talk featuring professional photographers in different areas. Speakers were wedding photographer Nara Jirayuwatana, wildlife and nature photographer Baramee Temboonkiat, and macro and action photographer Piyachat Kaelong.
The EOS R is expected to revolutionise the world of photography by making it fully digitized. Canon has planned roadshows to major cities nationwide for photography enthusiasts to get a hands-on experience with this new camera. Leading photographers will also be invited to share their experiences in using the EOS R and compatible equipment.
Taking the needs of serious camera users into consideration, Canon Marketing Thailand is providing attentive technical and maintenance support in order to achieve maximum users' satisfaction and best experiences in using the EOS R System.
The Canon EOS R camera and all equipment launched together will go on sale in Thailand from 20 October 2018 onwards at authorised Canon distributors nationwide. Prices and dates of availability are as follows:
| | | | |
| --- | --- | --- | --- |
| # | Product | Price | Available from |
| 1 | EOS R (Body) | 82,900.00 | Oct 2018 |
| 2 | EOS R (w/ RF 24-105 kit) | 122,900.00 | Oct 2018 |
| 3 | RF24-105mm f/4L IS USM | 39,790.00 | Oct 2018 |
| 4 | RF50mm f/1.2L USM | 85,290.00 | Nov 2018 |
| 5 | RF28-70mm f/2L USM | 111,400.00 | Dec 2018 |
| 6 | RF35mm f/1.8 IS STM | 19,900.00 | Dec 2018 |
| 7 | Mount Adapter EF-EOS R | 3,990.00 | Oct 2018 |
| 8 | Control Ring Mount Adapter EF-EOS R | 7,990.00 | Nov 2018 |
| 9 | Drop-in Filter Mount Adapter EF-EOS R | To be announced later | Feb 2019 |
| 10 | Battery Grip BG-E22 | 11,900.00 | Nov 2018 |
| 11 | Speedlite EL-100 | 6,900.00 | Nov 2018 |