Canon Announces the EOS-1D X Mark III,
Built for Uncompromised Photo and Video Performance
​​​​​​​​​​​​​​​​​​​​​​​​​​​​ Canon has announced the release of the EOS-1D X Mark III, built to meet the needs and demands of professionals who require the best from their equipment. With a powerful 20.1 megapixel 35mm full frame CMOS sensor and the new DIGIC X image processor, the EOS-1D X Mark III delivers top-notch image quality in a wide range of shooting situations.It also has the ability to capture high-resolution images at up to 20 frames per second (fps) and high-definition video up-to-4K 60P featuring Canon's proprietary Dual Pixel CMOS Autofocus (AF) technology.The EOS-1D X Mark III is Canon's ultimate Flagship DSLR, not just in terms of technical performance, but also with its versatility and usability, regardless of whether the user is a seasoned professional or advanced enthusiast.
Some of the EOS-1D X Mark III's features include:
​​​​​​​​​​​​​​​​​​​​​​​​​​​​​​​​​​​​​​​​​​A newly developed 20.1 megapixel 35mm full frame CMOS sensor
Continuous shooting speeds of up to 16 fps (viewfinder shooting) and up to 20 fps (Live View) with AF/AE tracking
DIGIC X image processor with CFexpress media (dual slots), which allows a burst rate of approx. 1000 shots (RAW + JPEG)
New AF sensor combined with AI Servo AF IV delivers significant improvement in AF speed and tracking performance
4K UHD and 4K DCI movie recording at 60p/50p, and supports Canon Log 4:2:2 10-bit in-camera recording
In-camera recording of 5.5K RAW movies with simultaneous MP4 files
Built-in Bluetooth, GPS and Wi-Fi with FTP. Supports 5Ghz wireless LAN and compatible with 2x2 MIMO when used with WFT-E9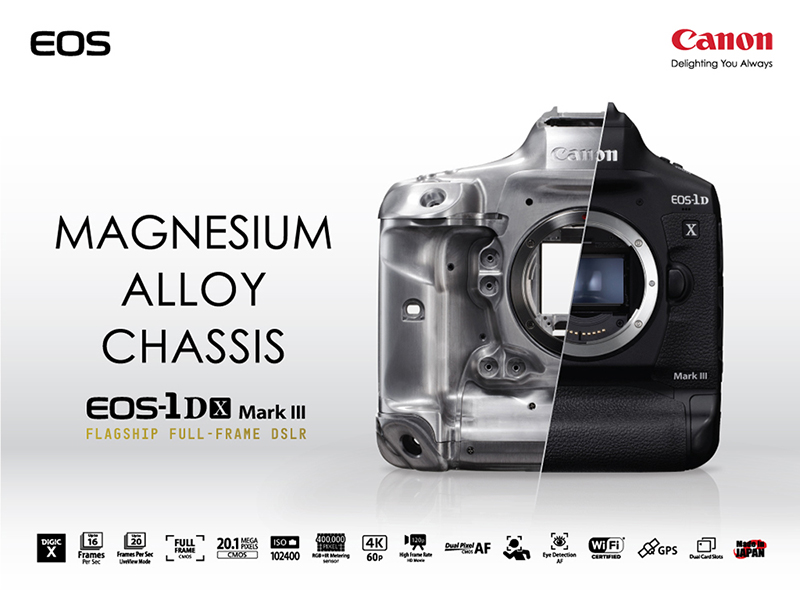 ​​​​​​​​​​​​​​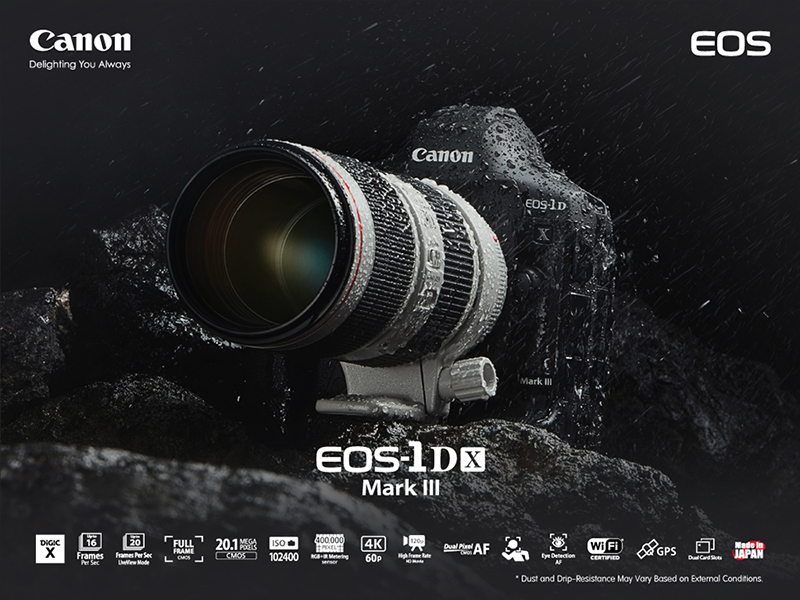 ​​​​​​​​​​​​​​
The Ultimate EOS Camera: Unparalleled Speed and Performance
​​​​​​​​​​​​​​​​​​​​​​​​​​​​​​​​​​​​​​​​​​ The EOS-1D X Mark III is equipped with a newly developed high-res AF sensor with pixel miniaturization and an increase in pixel density by 28 times for both vertical and horizontal directions, resulting in a significant increase of AF points from 61 points (EOS-1D X Mark II) to 191 points (for optical viewfinder shooting) in the EOS-1D X Mark III. Processing speed of the new AF sensor is 40x faster, resulting in significant improvement in subject recognition and tracking performance.
The increased number of pixels brings about a dramatic improvement in AF accuracy. All 191 AF points support exposure of up to f/8 over the entire AF area, with 65 cross-type AF points. This makes the EOS-1D X Mark III great for use with extenders, especially for wildlife or sports photographers.
With the CMOS sensors and improved noise reduction by the DIGIC X, the upper limit of normal ISO speed has been increased to 102,400. Image quality in the ISO 6400-12800 range, which is frequently used by sports and news photographers, is also improved with better noise control. A dedicated DIGIC 8 processor has been employed for AF management and control of the 400,000 pixel RGB+IR metering sensor.
The newly developed 16-point low pass filter helps to reduce moiré and colour distortion, as well as improve image resolution. Gaussian filter features have been incorporated within the EOS-1D X Mark III's low pass filter to better suit high-resolution lenses.
A brand-new feature of the EOS-1D X Mark III is the HDR PQ HEIF, a 10-bit recording standard (for stills) that aims to reproduce an image that looks sharper in detail and is close to what is seen in reality compared to conventional image rendering methods.
HEIF files can be easily converted to JPEG (HDR PQ-quality) format, either in the camera itself or on another device using Digital Photo Professional. This feature eliminates the need for RAW development retouching and gamma adjustment process, which was necessary in the past for photos containing strong contrast or lighter tones in neutral-colored areas.
The EOS-1D X Mark III also features a new "Clarity" setting as one of the image adjustment options. This setting is particularly useful when users want to maintain a soft appearance with the subject's skin, or when they want greater clarity to emphasise qualities such as the hardness of metal or details presented in a scenic view.
Burst shooting on the EOS-1D X Mark III has been increased to a maximum of 16 fps (approx.). The EOS-1D X Mark III uses a new mirror system with a high-speed mechanism to retract and reset the mirror, combined with an optical system that displays images in real time. This helps to minimize the problem of "blackout" when the mirror fails to properly capture a new image for the viewfinder to display, and greatly improves the camera's ability to track moving subjects through the viewfinder.
For Live View shooting, the EOS-1D X Mark III is capable of high-speed burst shooting at up to 20 fps (approx.) for both RAW and RAW + JPEG recording. Focus and exposure can also be maintained via AF/AE tracking. The effective AF area during Live View burst is broader than what is available during viewfinder shooting, with tracking up to 525 segments.
Additionally, the EOS-1D X Mark III can focus extremely well in low light situations (as low as EV-6). Eye Detection AF and head detection routines enable the camera to provide excellent tracking performance and focusing accuracy.
When shooting human subjects, the camera will detect and focus on the subject's eye even during burst shooting, allowing the photographer to achieve highly accurate focus. Up to 3,869 AF positions can be manually selected. In the viewfinder shooting mode, the new AI Servo AF IV provides higher predictive accuracy and stability for focusing in challenging shooting conditions such as when the subject is moving.
New Dual CFexpress Media Format and 4K Video Recording Without Cropping
​​​​​​​​​​​​​​​​​​​​​​​​​​​​ The EOS-1D X Mark III is equipped with dual CFexpress card slots for high-speed data transfer, coupled with the camera's extended buffer memory to achieve an astounding continuous burst rate of 1,000 shots (RAW). This is five times more compared to the EOS-1DX Mark II. With the EOS-1D X Mark II, a photographer could shoot at 14 fps for 12 seconds until the buffer is filled, but with the EOS-1D X Mark III, the duration can last for a minute at 16 fps.
The EOS-1D X Mark III is also the first Canon full-frame camera to feature 4K video without cropping, with the camera supporting movie recording in both the 4K UHD (3840 x 2160, 16:9) standard suitable for broadcast content production, and the 4K DCI (4096 x 2160, 17:9) standard for cinematic production. The camera is equipped with Canon Log which supports H.265 HEVC encoding to ensure wide gradation, vivid colour range and small file size.
The HDMI 4K 60p output/Canon Log 10-bit output can be used to transmit 4K movie data to another device for display or external recording. The EOS-1D X Mark III also supports Canon Log YCbCr 4:2:2 10-bit video output and ITU-R BT.2020 color gamut output. These features make it possible to capture movie images with excellent dynamic range and vivid color. In-camera 5.5K 60p RAW movie is also available, allowing users to shoot HDR clips, high-contrast scenes, and scenes that require advanced editing. High-speed movie shooting at 120p/100p for FHD is also possible with the EOS-1D X Mark III.
Most of the AF functions used to shoot Live View still photos can also be used for movies. Users can easily switch between movie and still photo shooting with the same operational feel. This allows users who are accustomed to AF shooting through the viewfinder to use AF functions effectively when shooting movies.
Enhanced Network Functions and Transfer Speeds
​​​​​​​​​​​​​​​​​​​​​​​​​​​​ The EOS-1D X Mark III is also equipped with built-in GPS for photographers to maintain a log of shooting locations and manage files. The camera supports up to SuperSpeed Plus USB (USB 3.1 Gen 2) transfer speed. When connected to a PC with a compatible cable, data transfer speed is faster than that of the EOS-1D X Mark II. The EOS-1D X Mark III now comes with built-in Wi-Fi with file transfer protocol (FTP) functions. If a faster transfer speed is needed, the new WFT-E9 compatible with Dual Band (2.4GHz/5GHz) and MIMO is available as an accessory for this camera.
In terms of durability, the EOS-1D X Mark III has a projected shutter life of 500,000 cycles. The main structural parts of the camera are made of magnesium alloy for lightweight and high rigidity, and it is also water and dust resistant. The AF-ON button incorporates an optical sensor to detect the finger's movement. It allows the user to quickly select the AF point easily without releasing the button. A new high-definition LCD panel with approximately 2.1 million dots provides a clear, distinct display for menu and playback operations using the touch screen.
There are also illuminated buttons on the EOS-1D X Mark III for easier menu and playback operations in dark conditions. The improved viewfinder is able to display key elements (other than the AF frame) in red, making it easy to view information even in very dark or extremely bright conditions. The display of other viewfinder elements/information does not impair AF operation.
Robotic Camera System
​​​​​​​​​​​​​​​​​​​​​​​​​​​​ Along with EOS-1D X Mark III, Canon has launched a Robotic camera system (CR-S700R), a remote control solution for capturing still images using interchangeable lens cameras, via intuitive remote operation. The system consists of a Robotic camera head for Pan/Tilt/Roll/Zoom operation, and an IP Camera Controller (CR-G100) for managing wired connection with camera and PC, as well as its remote operations. By using the optional Camera Remote Application (CR-A100), photographers can manage Live View display and remote release of multiple robotic camera systems and cameras.​​​​​​​​​​​​​​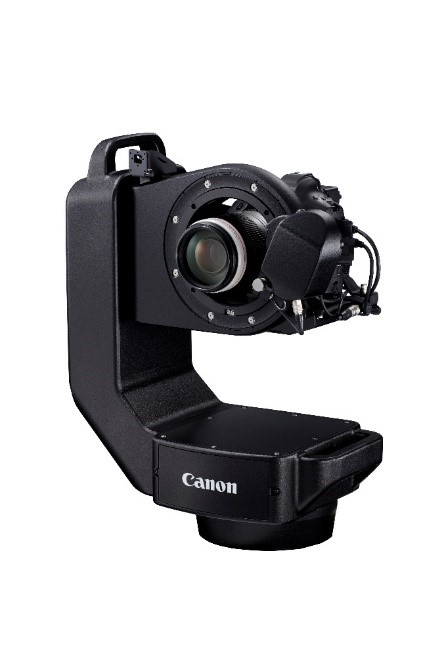 ​​​​​​​​​​​​​​
The Canon EOS-1D X Mark III will be available in Thailand in late February 2020 at Canon's authorized distributors nationwide. For more information, visit​​​​​​​ https://th.canon​​​​​​​​​​​​​​​​​​​​​​​​​​​