Canon supported NARIT's astrophotography training workshop
"Astrophotography Marathon 2022"
.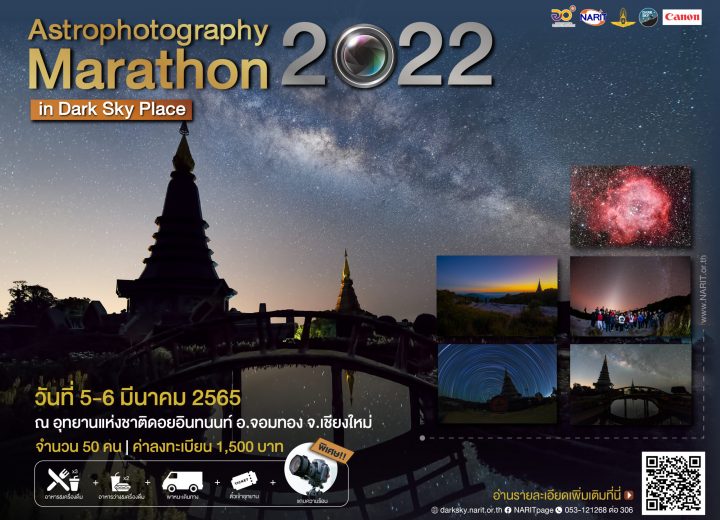 Canon Marketing (Thailand) Co., Ltd. supported "Astrophotography Marathon 2022" training workshop organized by the National Astronomical Research Institute of Thailand (NARIT) in collaboration with Doi Inthanon National Park and the Royal Thai Air Force at Doi Inthanon National Park, Sirindhorn Astronomical Park. Phra Mahathat Nopphamateneedol and Phra Mahathat Noppapon Bhumisiri in Chom-Thong District, Chiang Mai Province during 5 – 6 March 2022
The "Astrophotography Marathon 2022" is a training workshop held in a dark sky reserve that is free from light disturbances at night where participants can experience the beauty of the night skies through their eyes, intensively learn about astronomical photography and techniques from professional trainers, take stunning photos of astronomical phenomena such as the milky way, star trails, the zodiacal light, twilight and a wide range of Deep Sky Objects and exchange ideas on their interests with astrophotographers nationwide. The workshop is held only once a year with the maximum number of participants limited at 50 persons (workshop fee at baht 1,500 /person) Therefore, the workshop always attracts a lot of attention from people with passion in astronomy and photography. This year, 50 people participated in the workshop.
This year, Canon Marketing (Thailand) Co., Ltd. participated in the workshop by providing both cameras and lenses from Canon EOS R and RF Lens Series, including the new Canon EOS R3 for participants to use and experience product performance throughout the workshop, as well as providing lectures on photography techniques theoretically and practically by Canon product specialists together with experts in astronomy. In addition, Canon cast a live stream of the practical workshop, led by Mr. Supareak Karuehanon, a keynote speaker from National Astronomical Research Institute of Thailand from Doi Inthanon National Park on Canon Thailand Facebook, Canon EOS R Thailand Facebook and Canon Thailand YouTube to promote the workshop to other Canon fans, and the live stream attracted 6,700 viewers.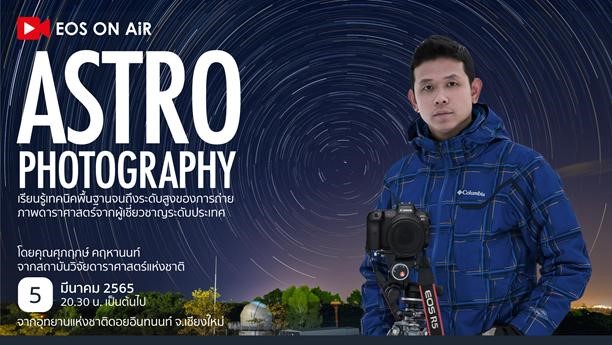 The on-site practical workshop was held at night at the dark sky reserve, and it proved very challenging to cast a live stream. For this reason, Canon utilized Canon Cinema ME as the main livestreaming camera. The high performance of Cinema ME ensured smooth live broadcast and received great attention from the National Astronomical Research Institute of Thailand.
The Astrophotography Marathon 2022 aims to promote leaning of science and astronomy along with knowledge of the art of photography. Canon, as a leading global brand in imaging technology, is committed to promoting such knowledge among photography enthusiasts and the general public in Thailand.