Designed for professional photographers and enthusiasts,
the Canon EF70-200mm f/2.8L IS III USM
and EF70-200mm f/4L IS II USM lenses
are hardy and offer superb imaging quality
with enhanced image stabilization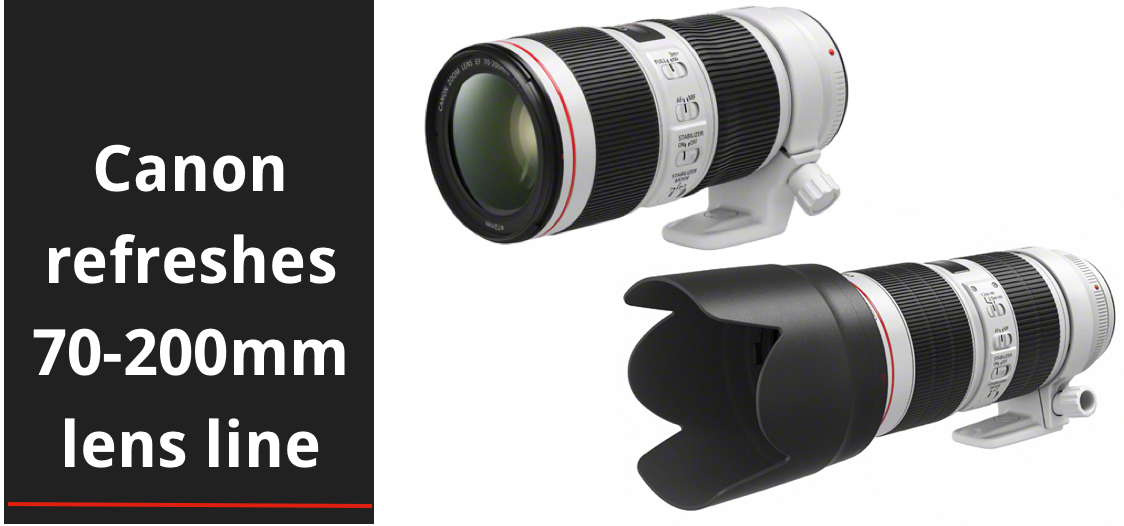 Canon has today announced an upgrade to two of its most well-regarded L-series lenses, with the launch of the EF 70-200mm f4L IS II USM and EF 70-200mm f2.8L IS III USM. Mr.Nitivat Vajanavaranan, ASSISTANT SALES DIRECTOR, ICP SALES & MARKETING-CONSUMER SALES, Canon Marketing (Thailand), said: "The lens upgrades were completed following feedback from its global community of photographers. To further empower them in creating powerful imagery, we have made significant improvements on the versatility, usability and maintainability of our L series lenses. So we are very proud to be introducing these two lenses. The EF 70-200mm f/4L IS II USM epitomises the very finest in L-series optical technology, whilst being compact in size, robust and lightweight, and the EF 70-200mm f/2.8L IS III USM offers unbeatable performance, versatility and durability."
The first version of the EF 70-200mm f4L lens is one of our firm favourites and is the go-to lens for much of vary photography (there haven't quite been fights over it, but you'll never find it in the equipment cupboard!). So we're excited to see what the Mark II version, plus the new f2.8 lens, are capable of.
Hardy and Reliable
As visual storytellers, photojournalists must be constantly ready to snap images at any given time or in any unpredictable situation. With the EF70-200mm f/2.8L IS III USM's large aperture and EF70-200mm f/4L IS II USM's improved IS mode for stabilising both vertical and horizontal panning, hand-held shots in lowlight conditions are now a breeze to capture.
Designed to deliver stellar quality and a great level of flexibility, the new lenses are reliable even in the harshest conditions. The dustproof and drip-proof structure of both lenses on the mount joints, switches and zoom rings, spells protection against water and dust, making them extremely helpful when shooting in torrential rain or the desert. The fluorine coating on the lenses' surface renders it smudge-resistant from water and oil, and easy to clean if they do get dirty. Photographers can now focus on getting the right shot instead of worrying about the lenses.
Enhanced Precision and Image Stability
Sports or wildlife photography often requires the photographer to capture the essence of the subject in fleeting seconds. Equipped with ring-type USM which uses ultra-sonic frequency vibrations to deliver high-speed AF, photographers can easily capture fast moving subjects and unpredictable movements using the new lenses. The switch from auto-focus to manual focus is made instantly by rotating the focus ring, enabling faster response to ensure no moments are missed.
Image stabilization reduces image blur caused by camera shake, especially when shooting fast-paced movements. The EF70-200mm f/2.8L IS III USM employs a shift type stabilizer of CIPA-standard IS capability equivalent to 3.5 stops in both modes, suppressing camera shake even at a super slow shutter speed.
The two lenses feature IS modes suitable for various occasions; Mode 1 to shoot still life or stationary subjects and Mode 2 to shoot a moving object while panning, like at a racing event. In this mode, vertical movement during a horizontal pan and horizontal movement during a vertical pan will be automatically corrected. In addition, there is an IS Mode 3 available in the EF70-200mm f/4L IS II USM lens that will be especially useful for sports photographers shooting fast-moving subjects without a tripod, and tracking of irregular movements.
Pristine Image Quality
Landscape photographers can rely on these two lenses to deliver the sharpest details throughout an image. Inheriting the combination of fluorite elements and UD lenses of existing models, the two lenses correct any chromatic aberrations to achieve high resolution and high contrast with minimal colour bleeding.
With one fluorite and five UD lenses combined, the EF70-200mm f/2.8L IS III USM lens favorably corrects the lateral chromatic aberration, ensuring high resolution and high contrast throughout the zoom range. In addition, the EF70-200mm f/2.8L IS III USM lens uses the new Air Sphere Coating (ASC) technology to significantly suppress any flaring and ghosting, delivering crisp images.
Unleash Your Creativity with Artistic Bokeh
With these two lenses, users can easily create artistic portrait shots with excellent bokeh. The EF70-200mm f/2.8L IS III USM lens features an 8-blade circular aperture that creates a natural and soft background blurring, which apart from portraits, is also ideal for wildlife photography. A bright zoom lens with maximum aperture of f/2.8 throughout the zoom range, the lens enables photographic expression with dramatic background blurring.
The EF70-200mm f/4L IS II USM lens on the other hand, uses a 9-blade circular aperture to produce a striking, smoother bokeh quality for that ultimate portrait shot.
Widen Your Portrait Photographic Expression
Portrait or macro shots sometimes require a short distance between the photographer and its subjects to showcase dramatic details. Recognising this, the minimum focusing distance of the EF70-200mm f/4L IS II USM lens has been shortened from 1.2m to 1m. This means users can go closer to their subject to expand their photographic expression and also to achieve tighter composition. This larger magnification leads to more pronounced background separation to produce dynamic close-up shots.
Accompanying Accessories
No workhorse lenses should be without their trusty accessories like the accompanying lens bag and lens cap. The EF70-200mm f/2.8L IS III USM lens has a new ET-87 Lens Hood and the Ring-Type Tripod Collar B, while the EF70-200mm f/4L IS II USM lens is supplied with a hood that blocks out glare and prevents lens flare. This can be very useful when shooting under the blazing sun.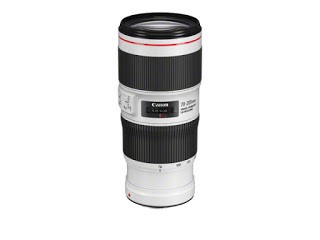 Superior quality, robust and compact design – the EF 70-200mm f4L IS II USM
The Mark II version of this affordable mid-telephoto lens offers numerous improvements over its predecessor. The lens features enhanced image stabilisation (IS) – from 3 stops to 5 – and now has three IS modes for different action scenarios.
Both the optics and the electronics have been upgraded. The f4 version has 20 elements in 15 groups, has two UD lens and one fluorite lens elements for improved image quality and Canon-engineered Super Spectra Coating (SSC) for reduced ghosting and flare. An extra diaphram blade has also been introduced – taking it up to nine – for more rounded out-of-focus highlights.
The EF 70-200mm f4L IS II USM uses a combination of a Ring USM and a new third generation EF engine, which features a new control CPU and newly developed firmware, to drive greater speed and accuracy in achieving high-speed autofocus. The minimum focusing distance has been reduced, compared to the Mark I f4 lens, and you can now get within one metre of your subject, for 0.27x magnification.
Key features; EF 70-200mm f4L IS II USM
A compact design that's ideal for photography on the move
Enjoy consistent exposures, with a constant f4 max aperture
Stay sharp in low-light, with a 5-stop Image Stabilizer
Sophisticated optical design delivers a superb performance
Shoot with confidence, however tough the conditions
The EF 70-200mm f4L IS II USM comes supplied with the dedicated lens hood ET-78B and is available from July 2018, with an optional tripod mount ring AII (WII) available separately.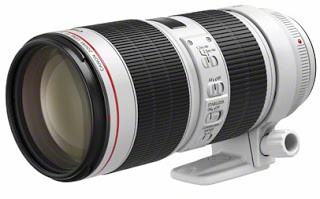 High-performance, versatile and durable – the EF 70-200mm f2.8L IS III USM
The Mark III version of the highly-regarded f2.8L lens is a more modest upgrade. Following feedback from its professional users, Canon has concentrated on reducing ghosting and flare by the addition of new and improved optical coatings to the existing lens elements. As well as the existing Super Spectra Coatings – which Canon says it has improved within this lens – it has also added Air Sphere Coating (ASC) to the rear of one of the 23 lens elements.
Key features; EF 70-200mm f2.8L IS III USM
Enjoy extra creative control, with a fast f2.8 aperture
Shoot with confidence in low-light conditions
Superb image quality throughout the zoom range
Built to meet the demands of working professionals
Fast, near-silent autofocus
The EF 70-200mm f2.8L IS III USM comes supplied with a dedicated lens hood, tripod collar and lens bag, and will be available from September 2018.
Specification Summary
| | |
| --- | --- |
| EF70-200mm f/2.8L IS III USM | |
| Focal length: | 70-200mm |
| Maximum aperture: | f/2.8 |
| Lens construction: | 23 elements in 19 groups |
| Minimum focusing distance: | 1.2m |
| Maximum magnification: | 0.21x |
| Drive system: | Ring-Type USM drive system |
| Dimension: | 88.8mm x 199mm |
| Weight: | Approx. 1480g |
| | |
| --- | --- |
| EF70-200mm f/4L IS II USM | |
| Focal length: | 70-200mm |
| Maximum aperture: | f/4 |
| Lens construction: | 20 elements in 15 groups |
| Minimum focusing distance: | 1m |
| Maximum magnification: | 0.27x |
| Drive system: | Ring-Type USM drive system |
| Dimension: | 80mm x 176mm |
| Weight: | Approx. 780g |