Five Tips to Choose Best Printers for Work From Home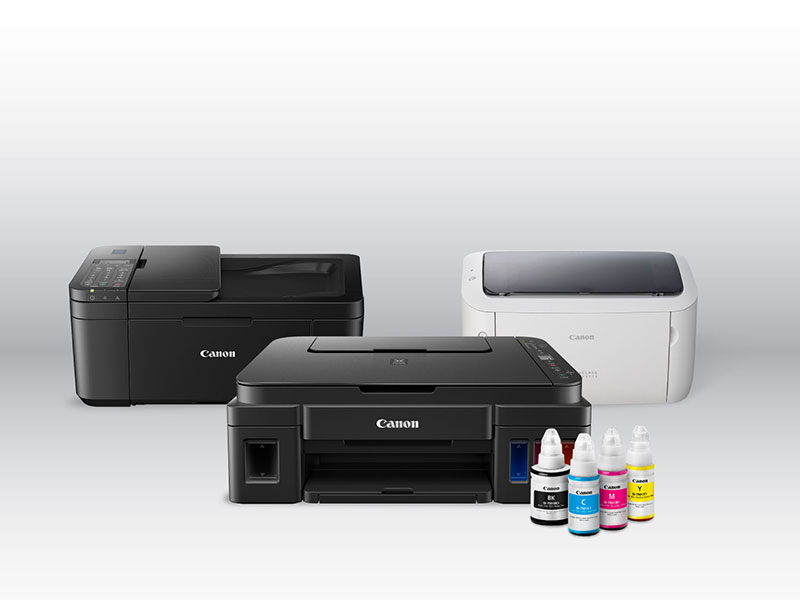 For many people who work and learn online at home for months, expecting life with the pandemic will continue for a while, it's a good idea to start looking for the right and most reliable printer for work from home.
Unquestionably, printers have become one of the most essential and useful devices for greater convenience in today's learning and work. The most popular printers for household use are inkjet printers because it is easy to use. But for those who need to print many materials effortlessly and fast, laser printing can be an ideal choice.
Therefore, the heart of choosing a printer is to find answers to what kind of printing tasks are needed. As each printer model varies in terms of distinctive features and strengths, choosing the right printer is a lot like choosing the right car – it must exactly suit your specific needs. Five simple tips that will help you decide on purchasing a new printer are as follows.
1. Identify the usage pattern and connection that fit your needs
The first thing to do before choosing a new printer, of course, is to identify your usage pattern. Each person has different needs: some people focus on printing large quantities; many rely on black-and-white printing; and some prefer a crisp and clear finish.
In addition, the connection for printing operations is another factor in choosing a printer. It can be a model with a USB cable plugged into the device to print directly or a wireless connection using WIFI that allows users to operate remotely and conveniently. The latter can also connect to mobile devices such as smartphones and tablets.
2. Look for a piece of art or an ordinary printed document
To decide on buying a printer, it must be certain that it would provide the most effective results. Therefore, the print quality factor is important. Therefore, print quality is an important factor. A printer capable of delivering excellent prints must have a set of reliable printhead and ink cartridges as well as good quality paper.
All of these elements work together to deliver printouts that give crisp, clear colors and a flawless finish. It also provides durable colors that can increase the lifespan of documents and images, keeping them last longer without color fading.
3. Evaluate your print demand – less or more
Printing demand varies by user. Therefore, each printer model has been designed for and tailored to different print volumes. Before choosing to buy a printer, the user must evaluate the volume of prints and printing formats monthly to select the most appropriate model. The print volume might be a minimum of only 50 pages or the need to print up to 1,500 pages.
However, whether users want to print more or less, the printer must be effective in saving ink while maintaining the output quality on every page and providing the most possible value for money to users.
4. Easy maintenance will be half the battle
When the printer has been used for some time, regular maintenance and checks are essential. This should not be neglected because it may affect the lifetime of the printer. For a printer that is suitable for work from home, it must be developed for easy, do-it-yourself maintenance of components. Ink cartridges should be designed to be refilled easily without spillage. For all-in-one laser printers, toners need to be quickly and effortlessly replaced.
Additionally, it is better that the printhead and ink absorber kits can be purchased and replaced by yourself. This attribute, apart from providing users with convenience, it helps reduce the time spent bringing your printer to the service center and allows for contactless interactions during the pandemic.
5. Knowing the budget helps limit options and make decisions
Finally, it's best to preset your budget. Knowing the budget first can help you better save time and energy when choosing a new printer. The price of a printer depends on its features and these vary by model. A simple trick, choosing a low-power printer will help save on your monthly electricity bill.
Once the printing demand has been identified, it's time to find the right printer model that is most attractive to you. As Thailand's market leader in inkjet printing and the No. 1 laser printer brand in the ASEAN, Canon understands the current situation that many people must work from home and want a printer that meets the New Normal lifestyle. The brand has recently introduced three printer models for different work styles. The following provides useful information for those who are interested in buying a printer and help them with their decision-making.
Canon PIXMA E4270
The PIXMA E4270 is a compact, wireless all-in-one inkjet printer that supports Wi-Fi connectivity, which enables convenient mobile and cloud printing. It comes with print, scan, copy and fax capabilities as well as automatic 2-side printing for low-cost printing requirements. With a recommended print volume of 50-200 pages, it delivers 8.8 images per minute in the black and white mode and 4.4 images per minute in the color printing mode. Print cartridges for the PIXMA E4270 are truly affordable and easy to maintain, making this model an ideal printing companion for students who seek quality printouts for their studies.
Canon PIXMA G3010
The PIXMA G3010 is an all-in-one refillable ink-tank printer. It offers a complete range of printing, scanning, and copying capabilities. With Wi-Fi connectivity, it can print borderless materials up to A4 size, which is ideal for users who want to print large volumes. Thanks to the recommended print volume of 150-1,500 pages per month with a large ink tank and large ink volume, it can support printing up to 7,000 pages per refill. It also has a new ink bottle design that makes refilling easier and with less spillage. The PIXMA G3010 best fits the needs of SMEs – an ideal choice for large volume printing at low running cost, from address labels and customer thank you cards to shop logo stickers.
Canon imageCLASS LBP6030w
The imageCLASS LBP6030w is a wireless, black and white laser printer that is a great fit for personal printing as well as small office and home office. Compact and efficient, it is designed to help save space and perform high-speed and high-volume print jobs with Canon's On-Demand Fixing technology for low energy consumption. Backed by Wi-Fi connectivity, it supports easy remote printing (images and documents) from both IOS and Android devices. The imageCLASS LBP6030w delivers a recommended monthly print volume of 200–800 pages, with the use of the all-in-one 325 print cartridge that makes maintenance a breeze.
After getting the tips for choosing the right printer as mentioned above, many people may already have their favorite printer specifications. To purchase a Canon printer, you can contact authorized distributors nationwide or shop conveniently online by visiting