Canon Launches EOS R7 and R10 to Fully Tap into the Mirrorless Camera Market,
plus Two New RF-S Lenses,with Official Prices Revealed
Strengthening its role as a world leader in photography with No. 1 market share of global
interchangeable-lens digital camera market for over 19 years consecutively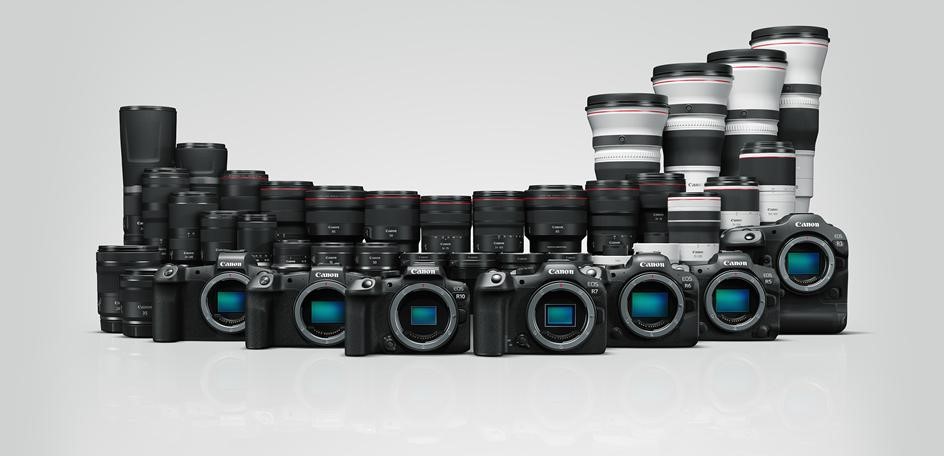 Canon EOS R7 meets the demands of serious photographers with advanced features, delivering pro-level speed, resolution, and durability, in the dynamic fields of sports, automotive, bird, and wildlife photography, along with 4K60P video performance (7K Oversampling).
Canon EOS R10 responds to any lifestyles with state-of-the-art shooting functionality that makes it easier for users and best suits today's video content creators with its vertical video recording.
Canon RF-S lens, the entry-level lens for beginners to the EOS R system, with the control ring unique to RF lenses, in a lightweight and compact body with portable design, making it the ideal everyday lens.
Canon strengthens its position in the mirrorless camera market with the launch of its two new cameras, the Canon EOS R7 and EOS R10, both inheriting the AF technology of the EOS R3. The Canon EOS R7 delivers high performance with an image resolution of 32.5 megapixels and In-Body Image Stabilization (IBIS), suitable for fieldworks with protective seals offering a high level of dust and water resistance. The Canon EOS R10 comes with new easy-to-use features, such as the Panorama Shot (in SCN mode), the In-Camera Focus Bracketing, the new Panning mode and the built-in flash, in a compact size, allowing users to explore wherever they go. In addition, Canon also launches two new lenses, the Canon RF-S 18-45mm f/4.5-6.3 IS STM and RF-S 18-150mm f/3.5-6.3 IS STM, entry-level lenses to enhance the performance of the EOS R cameras, with its lightweight and portability perfect for everyday situations.
Mr. Hiroshi Yokota, President, and Chief Executive Officer of Canon Marketing (Thailand) Co., Ltd. said "Canon has long been recognized as a world leader in the camera business, most known for our high quality and standards, and recently in March this year, we celebrated the 35th anniversary of our Canon EOS System. Since its debut, Canon has continuously developed its diverse imaging technologies and expanded its EOS system, which now comprises a total of 21 EOS series cameras and 104 RF and EF lenses, to enable visual expression through still photography, video, and even Virtual Reality content. As Canon has gained support from a wide range of users over the years, we finally achieved a significant milestone with the production of 150 million RF and EF lenses in 2021. As one of the world's most successful camera brands, Canon has maintained its No.1 market share of the global market in interchangeable lens digital cameras for 19 consecutive years since 2003. Lastly, please rest assured that Canon remains committed to constantly refine its fully integrated imaging technologies to craft a great photography experience and high-quality images for Thai and worldwide users. We will steadily expand our EOS R system product line-up, and we are confident that the launch of EOS R7 and EOS R10, as well as the new RF-S lenses, will comprehensively meet the needs of increasingly diverse users and enable them to realize more of the revolutionized performance of the EOS R system."
Ms. Netnarin Chancharassuk, Director - Consumer Imaging Information Product Group of Canon Marketing (Thailand) Co., Ltd. said, "Canon launched the EOS system in 1987 with the philosophy of creating camera products that offer speed, ease of use, and high image quality, and we entered the mirrorless camera market in earnest by releasing the EOS R series in 2018 under the concept 'Reimage Optical Excellence' which was very well received by Thai consumers. The EOS R3 won 'Best Camera Innovation' and EOS R5 C won 'Best Professional 8K Hybrid Camera' while RF14-35mm f/4L IS USM and RF100mm f/2.8L Macro IS USM won 'Best Full Frame Wide Angle Zoom Lens' and 'Best Macro Lens', as well."
"With its business development plan in 2022, Canon takes another step forward by expanding its mirrorless camera lineup in the EOS R system, based on APS-C sensors that deliver performance in terms of speed, continuous shooting, and high-quality video recording to comprehensively meet the needs of different user groups. As highlighted in today's launch event, the Canon EOS R7 camera is designed for serious camera users who require high-performance cameras, capable of high-speed continuous shooting with an agile and accurate autofocus system for sports, automotive, bird, and wildlife photography.
The key visual reference for Canon EOS R7 features images of a Raptor, a predatory bird with instinctual power, speed, and accuracy in swooping down on its prey, mirroring the precise focusing speed and continuous shooting of Canon EOS R7 with 32.5-megapixel resolution at up to 30 frames per second. Additionally, the 'R' in Raptor matches with Canon's EOS R Series"
"The Canon EOS R10 targets new users who require a lightweight camera offering high quality images and automatic features. The new SCN modes enable them to showcase their creativity, ranging from the Panorama mode, the Focus Bracketing mode to the Panning mode that allows users to take professional panning shots as well as the vertical video recording function, all allowing for more convenience to video content creators on social media."
"The two new lenses are designed to be entry-level lenses for the EOS R users to achieve greater performance. The Canon RF-S 18-45mm F/4.5-6.3 IS STM is a standard wide-angle zoom lens suitable for capturing impressive moments daily while the Canon RF-S 18-150mm F/3.5-6.3 IS STM is an ideal travel companion not only for capturing everyday moments but also for long-distance photography, perfect for landscape, sports, bird and wildlife."
Canon plans promotional campaigns to celebrate the release of the Canon EOS R7 and EOS R10 as well as many Canon RF-S lenses to offer best value to Canon customers. Various online and offline marketing activities such as First Touch on Tour, EOS on Air, EOS Academy, and many more, including sponsorship support for our business partners in Thailand, will be launched to promote photography culture as a part of everyday life and will enable Canon to get even closer to consumers.