Canon unveils new EOS R5 and EOS R6 flagship full-frame mirrorless
cameras along with four new RF lenses and two teleconverters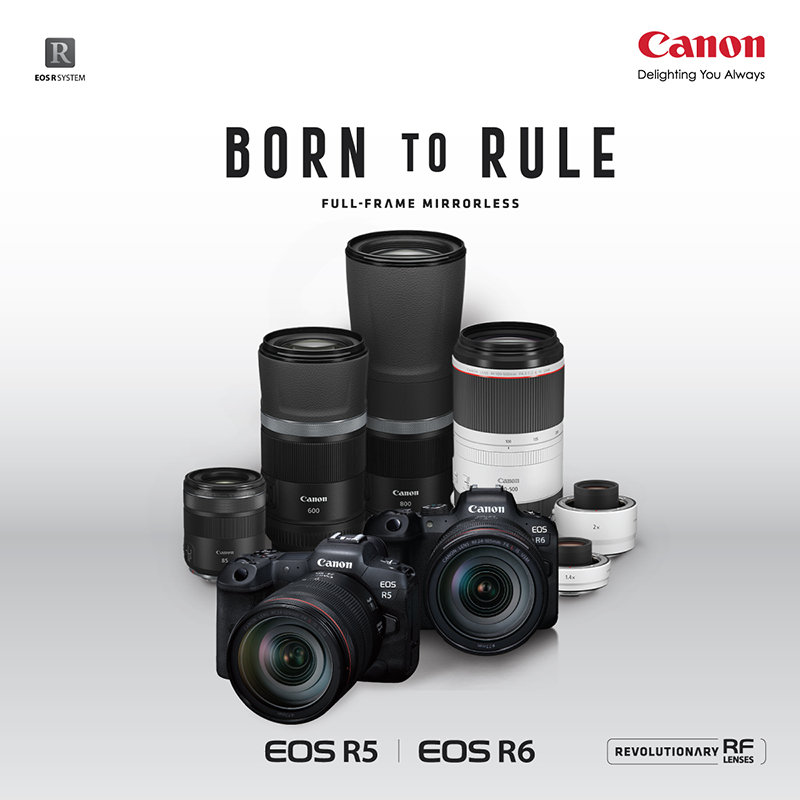 Canon advances further into the full-frame mirrorless camera market with the launch of the EOS R5 and EOS R6 equipped with superior video shooting ability of up to 8K, improved AF system, in-body IS and fast continuous shooting speed of up to 20 fps. Introduced alongside the cameras were super telephoto lens RF100-500mm f/4.5-7.1L IS USM; prime lenses RF85mm f/2 IS STM, RF600mm f/11 IS STM and RF800mm f/11 IS STM; plus Extender RF 1.4x and Extender RF 2x, all aimed at advanced amateurs and professionals.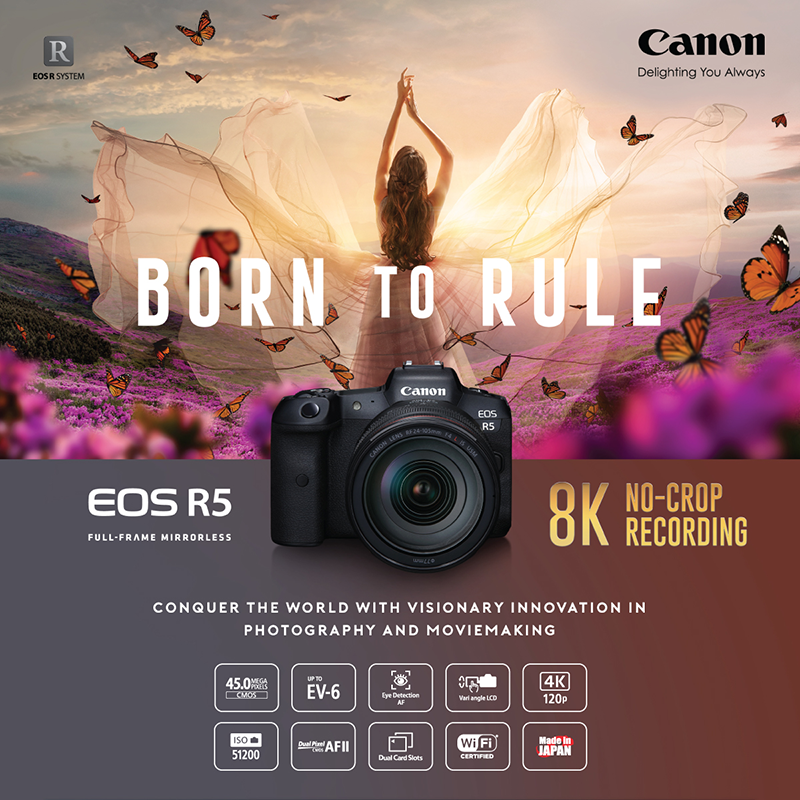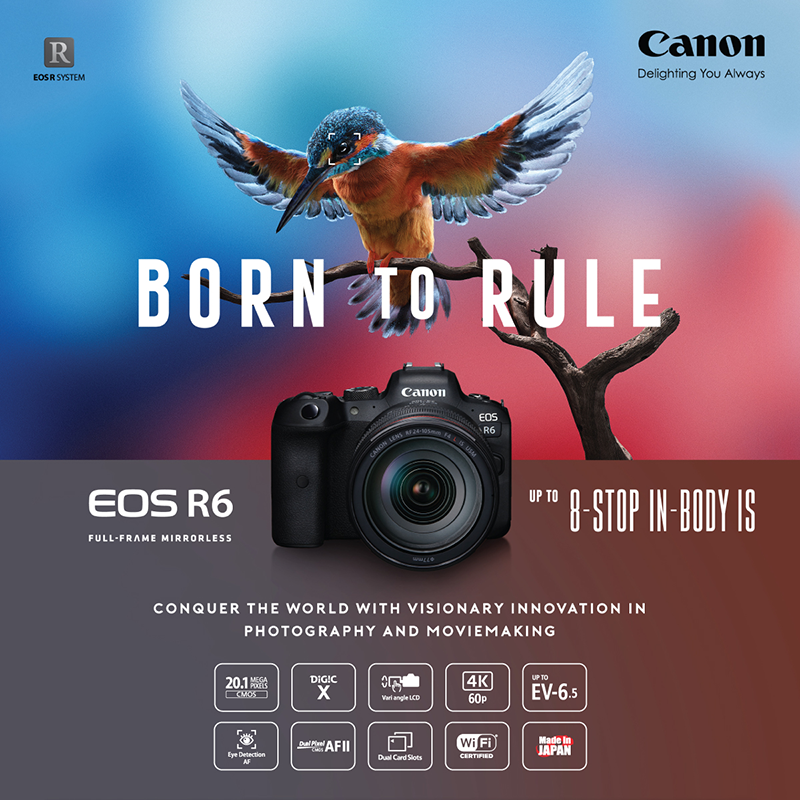 With a 45-megapixel full-frame CMOS sensor that is approaching medium format resolution territory, the EOS R5 is able to meet exacting demands from large format commercial printing to landscape and wildlife photography. Its native ISO can go up to an incredible ISO 51200, with the option to expand to ISO102400. The EOS R6 is equipped with a 20-megapixel full-frame sensor and native ISO of up to ISO102400, expandable to ISO204800. Powered by the new DIGIC X image processor, which has vastly improved noise handling capabilities, the electronic shutter of both the EOS R5 and EOS R6 is capable of a continuous shooting speed of up to 20 fps at full resolution while the mechanic shutter is able to shoot at a continuous shooting speed of 12 fps. The cameras' new Dual Pixel CMOS AF II technology enhances the image-reading speed of the CMOS sensor, coupled with the blazingly fast DIGIC X to bring about major improvements in auto-focusing capability. For the first time ever in the EOS lineup, AF coverage area has been expanded to cover 100% of the sensor horizontally and vertically, making focusing on subjects at the far edges a breeze.

Compared to the EOS R, the number of AF points for both cameras during automatic selection has increased sevenfold to an impressive 1,053 points. Manually selectable AF positions on the EOS R5 are 5,940 while EOS R6 has 6,072. With this significant increase, accuracy in AF tracking has improved dramatically. Both cameras can enable AF Priority mode for either people or animals, able to recognize the body, head and eyes of the subjects. For shooting in dimly lit situations, the EOS R5 offers low luminance AF sensitivity of EV -6 and EOR R6 at EV -6.5 – a condition so dark that human eye would find difficult to see. Their 5-axis In-Body Image Stabilizer (In-Body IS), when used in tandem with an Optical IS-equipped lens or even with RF lenses that do not have IS, delivers camera-shake blur reduction as effective as up to 8-stops decrease in shutter speed as well as optimized stabilization across the entire zoom range from wide-angle to telephoto.

The DIGIC X coupled with the CFexpress media enable the EOS R5 to record 8K/30fps movies with full sensor readout, achieving high-resolution for flexible post-production. There is an option to record 8K RAW movies without any external accessories. The EOS R5 is also capable of recording up to 4K/120fps for slow-motion movies. A variety of file formats are available, including RAW, H.265 HEVC and H.264 MP4 in either ALL-I or IPB compression. The EOS R6 is able to shoot 4K videos at up to 60 fps, and slow motion at 120 fps in Full HD, all without crop. All these video features make the cameras great tools for content creators. External monitoring and recording are available via HDMI port at up to 4K/60fps 10-bit 4:2:2 for both cameras, with PQ and Canon Log features for HDR content.

Regarding wireless connectivity, the EOS R5 has native support for both 5GHz and 2.4GHz wireless LAN without the need for any additional accessory. FTP and FTPS data transfer are supported as well, and the camera is compatible with the WFT-R10 data transfer device. The EOS R6 supports only the 2.4GHz band but retains the FTP & FTPS functionality. Both cameras support Bluetooth Low Energy (BLE) and are the first to work fully with the new image.canon cloud platform. Once configured and with a Wi-Fi connection established, the cameras can automatically upload image and video files and store them in the cloud platform for up to 30 days with no limit in size. Users can even configure image.canon to automatically transfer original image data to various cloud platforms such as Google Photos, Google Drive or Adobe Creative Cloud.

Both the EOS R5 and EOS R6 have a compact and lightweight magnesium alloy body with dust and drip-proof construction. The EOS R5 sports a top LCD panel while the EOS R6 has a Mode Dial. The Multi-controller and Quick Control Dial can be found on both models, allowing quicker selection of AF points and changing of settings. Both cameras are designed with the Vari-angle LCD with full touch screen convenience during AF and menu selections.

​​​​​​​The EOS R5 is equipped with a 0.5-inch hi-res electronic Viewfinder (EVF) with 5.76m dots while the EOS R6 comes with a 3.69m dot EVF. Display refresh rate if the EVF is at 119.88/59.94fps for both cameras. In terms of shutter durability, the EOS R5 has 500,000 cycles shutter durability while the EOS R6 has 300,000 cycles shutter durability. The shutter curtain of both cameras can be configured to close when power is off to prevent dust from entering the sensor chamber during a lens change. A new LP-E6NH battery, which has 15% higher capacity than the LP-E6N, has been created for both models, and they are also compatible with the existing P-E6N and LP-E6 batteries.
​​​​​​​
​​​​​​​The EOS R has two card slots for one CFexpress card and one SD memory card. The CFexpress card supports high-speed transfer, continuous shooting and recording of 8K RAW movies. The EOS R6 has two card slots for SD memory cards. An optional accessory for both cameras is the BG-R10 battery grip (sold separately) equipped with Multi-controller for shooting in vertical orientation. The battery grip makes portrait photography easier and has a dust and drip resistant design while accommodating two battery units (LP-E6NH, LP-E6N, or LP-E6).
​​​​​​​
​​​​​​​​​​​​​​Launched together with the two cameras was the RF100-500mm f/4.5-7.1L IS USM, the first super-telephoto zoom lens for EOS R-series full-frame mirrorless cameras. With focal length of 500mm, the RF100-500mm f/4.5-7.1L IS USM is the RF version of the popular EF100-400mm f/4.5-5.6L IS II USM, which is known for its wide zoom range and versatility across various applications such as sports, wildlife, nature and photojournalism. The RF100-500mm f/4.5-7.1L IS USM is 15% lighter in weight and has an additional 100mm reach plus a 5x zoom ratio, covering the medium telephoto (100mm) to super-telephoto (500mm) range.
​​​​​​​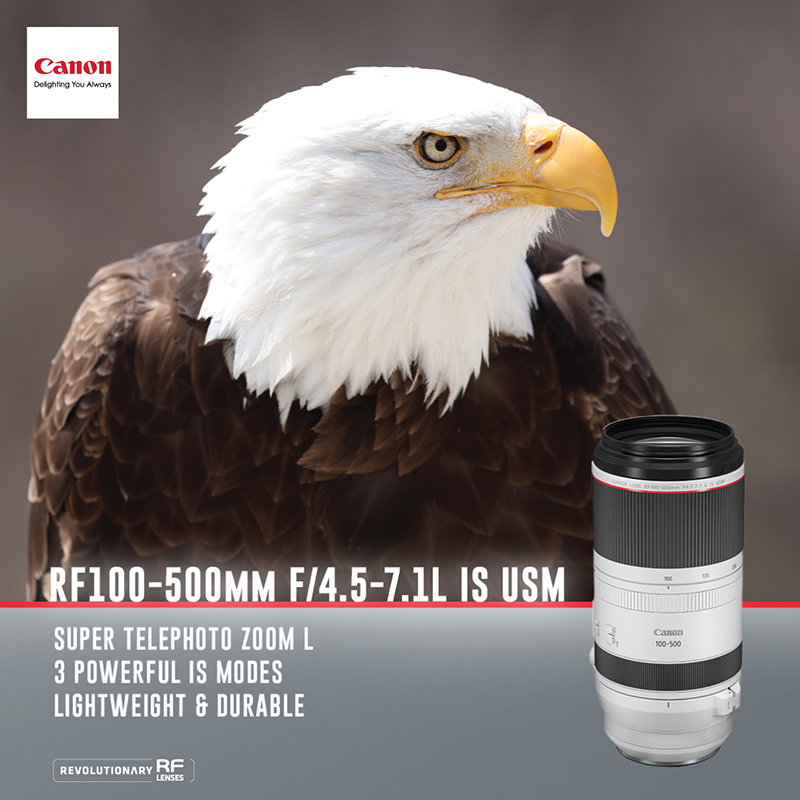 ​​​​​​​​​​​​​​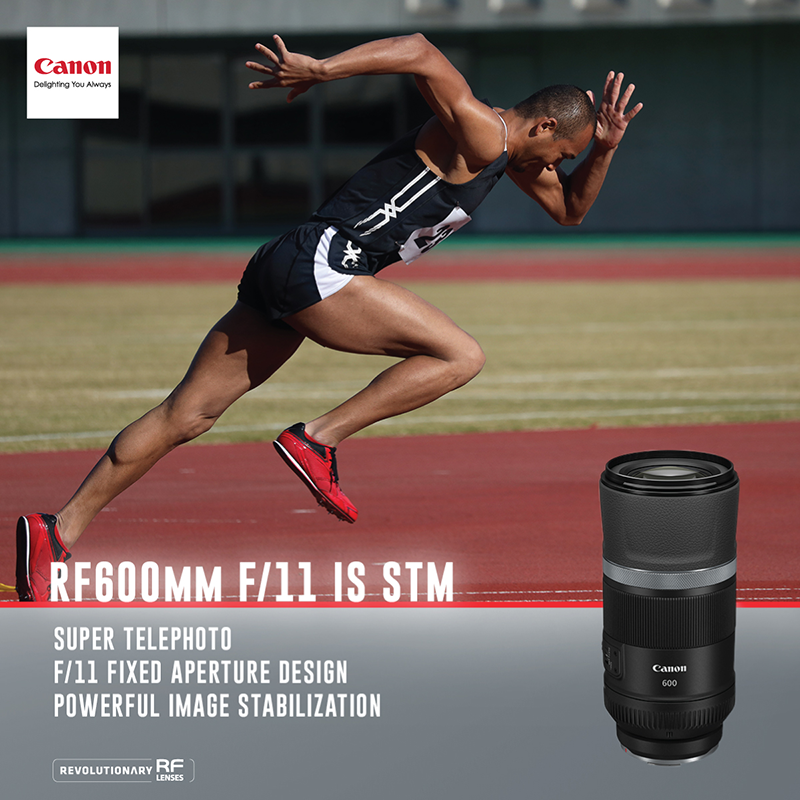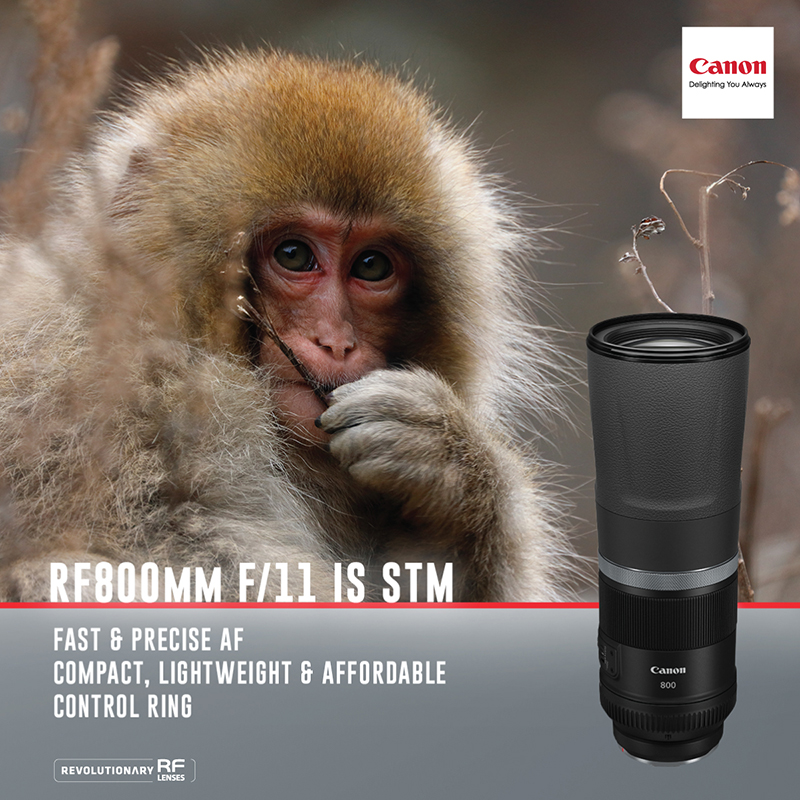 ​​​​​​​​​​​​​​​​​​​​​​​​​​​​​​​​​​​​​​​​​​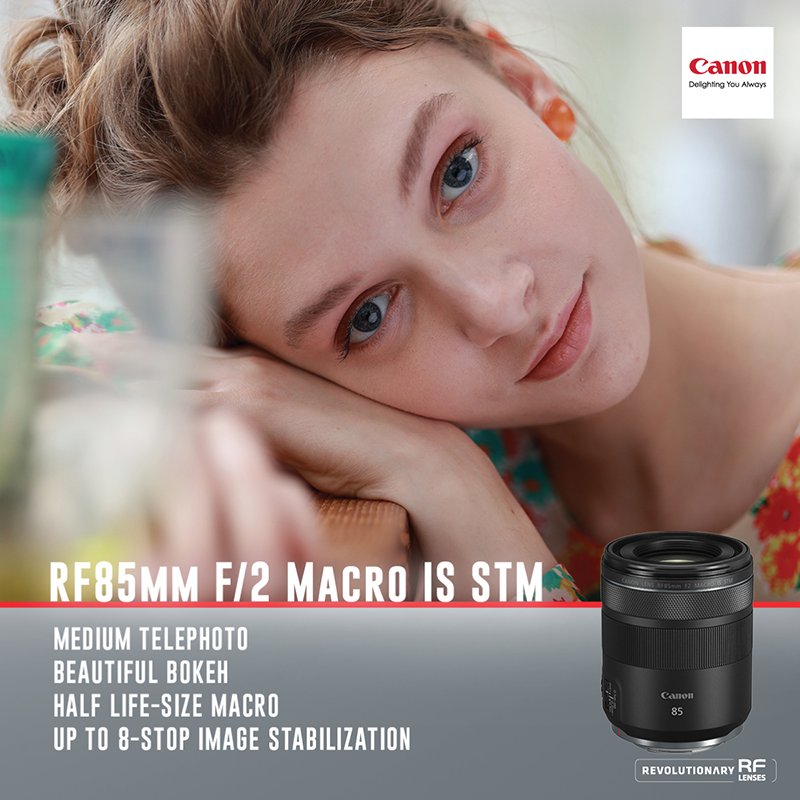 ​​​​​​​​​​​​​​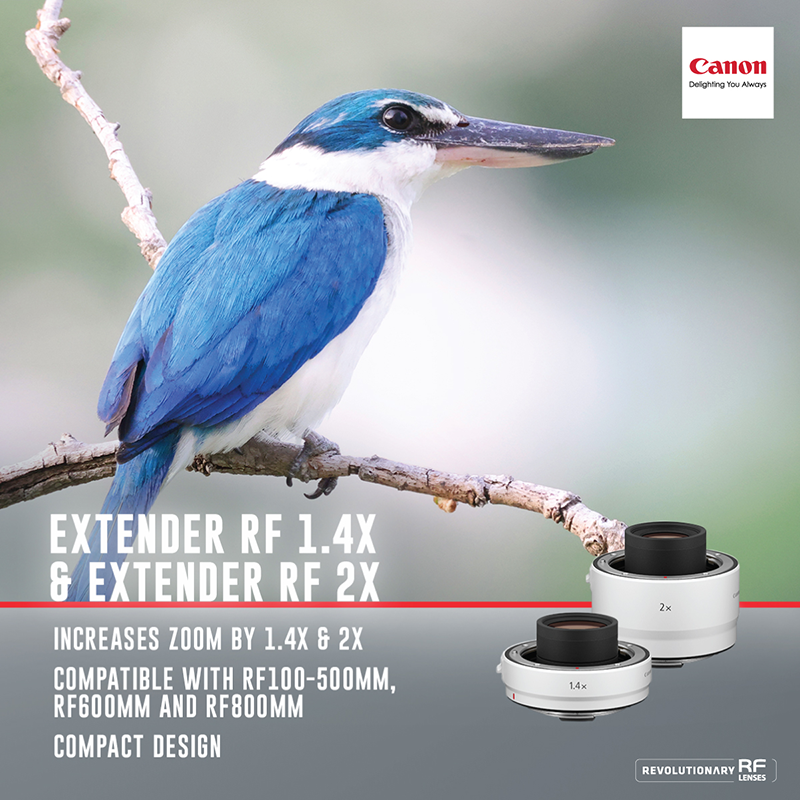 ​​​​​​​​​​​​​​
​​​​​​​The six UD lenses and one Super UD lens within the RF100-500mm f/4.5-7.1L IS USM are arranged near the focal plane surface. The ASC (Air Sphere Coating) on the lens elements is also used to reduce ghosting. All this work together to correct optical aberrations and deliver images that are sharp from edge to edge regardless of focal length a user shoots at. The RF100-500mm f/4.5-7.1L IS USM has the Optical Image Stabilizer mechanism that achieves image stabilization of up to five shutter speed stops, and a stabilizer mode selection switch where users can toggle between three IS modes for stationary subjects, for panning shots, and for subjects with irregular movements such as sporting events. When the lens is used with the EOS R5 or EOS R6 which possess in-body 5-axis image stabilization, an IS effectiveness of six stops is achieved at 500mm focal length. Users can shoot at lower shutter speed in dim situations to achieve brighter shots.
​​​​​​​
​​​​​​​The RF100-500mm f/4.5-7.1L IS USM can focus at a mere 0.9m from a subject and is capable of 0.33x magnification on the 500mm focal length (focusing distance of 1.2m), allowing users to focus on close-up objects with ease. Two Nano Ultrasonic Motors (USM) help autofocus (AF) faster and deliver high-speed, high-precision still image AF and smooth movie AF in combination with the EOS R-series cameras' Dual Pixel CMOS AF. Power saving and high-speed operation is also achieved. The lens has dust and drip-resistant construction and its heat-shield white paint helps maintain image quality even when shooting under the hot sun.
​​​​​​​
On top of that, Canon has introduced a trio of RF-mount prime lenses: RF85mm f/2 IS STM, RF600mm f/11 IS STM and RF800mm f/11 IS STM. The RF85mm f/2 IS STM is designed for portrait and macro photography while the RF600mm f/11 IS STM and RF800mm f/11 IS STM offer super telephoto focal lengths of 600mm and 800mm respectively at an affordable price.
​​​​​​​
​​​​​​​Breaking the traditional notion that super telephoto lenses are expensive large and heavy, the RF600mm f/11 IS STM and RF800mm f/11 IS STM are designed to be more affordable, compact and lightweight to allow budding photographers to venture into super telephoto shooting. By working together with the DIGIC X image processor and CMOS sensor in the EOS R series cameras, these prime lenses are capable of delivering high image quality even at high ISO settings. Utilizing a single DO (Diffractive Optical) lens instead of multiple lens elements at the front of both lenses has contributed to the lighter lens weight, producing high image quality with reduced chromatic aberration. The RF600mm f/11 IS STM and RF800mm f/11 IS STM are equipped with the Optical Image Stabilizer to achieve an IS effect of up to 5 stops on the RF600mm f/11 IS STM and 4 stops on the RF800mm f/11 IS STM, making it effective to control focus.
​​​​​​​
​​​​​​​High-strength but lightweight plastics are used for the main construction of both lenses, whereas metal parts are used on lens mount and tripod ring where strength is crucial. The fixed f/11 apertures of both lenses also helps reduce the weight and make them possible for handheld use.
​​​​​​​
The lens barrel of these lenses can be extended when shooting, while retracting can be done by rotating the lock ring on the mount, which makes them a lot more portable without having to get a dedicated bag. The RF600mm f/11 IS STM is 30% of the weight of the EF600mm f/4L IS III USM lens, and the RF800mm f/11 IS STM is 28% of the weight of the EF800mm f/5.6L IS USM lens. When retracted, the RF600mm f/11 IS STM is 45% of the length of the EF600mm f/4L IS III USM lens, and the RF800mm f/11 IS STM is 61% of the length of the EF800mm f/5.6L IS USM lens.
​​​​​​​
​​​​​​​The RF85mm f/2 IS STM comes with the 85mm focal length ideal for portraits while the large f/2 aperture results in dreamy bokeh and low light shooting capabilities, with macro functions and Hybrid Image Stabilisation for added performance. A minimum shooting distance of 0.35m and the ability to achieve 0.5x magnification are useful for wedding photographers who wants a portrait lens that can also capture details of rings and decorations. When the RF85mm f/2 IS STM is used with the EOS R5, up to 8 stops of image stabilization can be achieved, expanding the shooting possibilities without the need for a tripod.
​​​​​​​
​​​​​​​Additionally, the Extender RF 1.4x and Extender RF 2x have been introduced. Both are compatible with the RF100-500mm f/4.5-7.1L IS USM, RF600mm f/11 IS STM and RF800mm f/11 IS STM, extending the focal length by 1.4x or 2x without compromising on image quality.
​​​​​​​
The Extender RF 1.4x and Extender RF 2x achieve high image quality and a smaller size. Thanks to the RF mount, the total length of the new extenders has been reduced by 25% compared to the Extender EF 1.4xIII and Extender EF 2xIII. The extenders utilize high-refractive-power, low-dispersion glass material to greatly reduce chromatic aberrations. The three cemented lens elements with special coating within both extenders help reduce the air contact surface to minimize ghosting. Protected by heat-shielding white paint, both extenders are equipped with built-in microprocessors for better communications between the lens and the camera to achieve high precision AF. The vibration and impact resistant structure along with the dust and drip-resistant construction are designed to deliver reliability and durability.
​​​​​​​
​​​​​​​Links for more information:
​​​​​​​- EOS R5 : https://snapshot.canon-asia.com/article/en/full-frame-mirrorless-eos-r5
​​​​​​​- EOS R6 : https://snapshot.canon-asia.com/article/en/full-frame-mirrorless-eos-r6​​​​​​​
Official price announcement and availability date​​​​​​
​​​​​​​​​​​​​​​​​​​​
Month (Year 2020)
Model
Mid of September

EOS R5 Body
​​​​​​​EOS R6 Body
​​​​​​​RF600mm f/11 IS STM​​​​​​​
​​​​​​​RF800mm f/11 STM
​​​​​​​Extender RF1.4x
​​​​​​​Extender RF2x
​​​​​​​WFT-R10 (for EOS R5)
​​​​​​​Battery Grip BG-R10 (for EOS R5 and R6)
​​​​​​​Battery pack LP-E6NH (for EOS R5 and R6)

October

RF500mm f/4.5-7.1L IS USM
​​​​​​​​​​​​​​​​​​​​​​​​​​​​