Canon's New Multi-function Devices Meet Diverse Needs
of Businesses Operating in the New Normal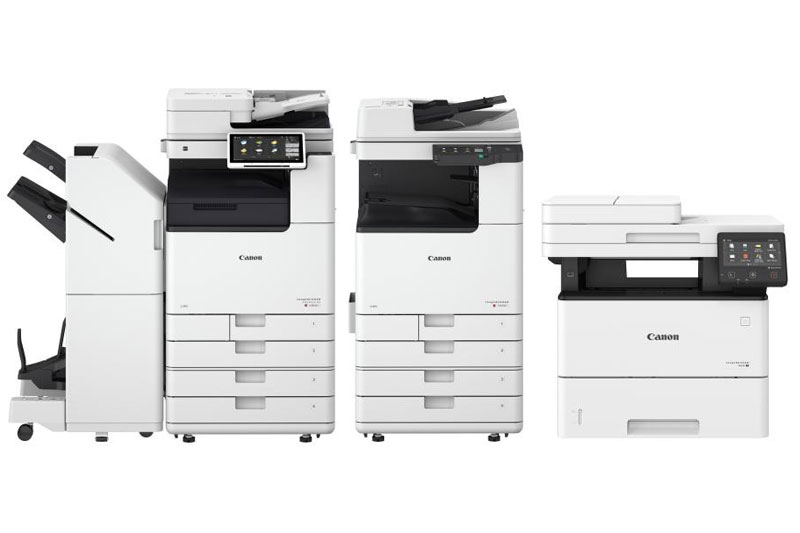 Canon today announced the launch of the imageRUNNER ADVANCE (iR-ADV) DX C3800i series, comprising four advanced A3 colour laser multi-function devices (MFDs), includes C3835i C3830i C3826i C3822i. The imageRUNNER (iR) C3226i, a simple A3 colour laser MFD, as well as the iR1643i II and iR1643iF II, two basic A4 monochrome laser MFDs. The new extensive and comprehensive lineup provides businesses of all sizes with capabilities to meet varied needs of the hybrid workplace while maximising productivity in the new normal.
"In the age of hybrid working, it is paramount that businesses ensure mobility and security are in place to allow a flexible blend of working remotely, in the office and on the go," said Mr. Ooi Chik Hoe, Vice President - Business Imaging Solution Division, Canon Marketing (Thailand) Co., Ltd. "Our latest MFDs offer seamless mobile connectivity, and support a wide range of mobile printing solutions including the Canon PRINT Business, Apple® AirPrint™ and Mopria® Print Service. Additionally, the MFDs come equipped with various security features that effectively prevent unauthorised device access, improve network security and safeguard against device tampering and malware."
Enabling Efficient Collaboration
The iR-ADV DX C3800i series integrates seamlessly with uniFLOW Online, a cloud-based print management solution to help businesses drive efficiency in the hybrid workplace. Based on pre-configured workflows, the solution's Filing Assist automates batch scanning, naming, filing and routing of documents to various cloud destinations for further processing. The flexible cloud connectivity allows in-office and remote workers to collaborate with ease, while the automated process eliminates error-prone and time-consuming manual filing for greater productivity. With the single-pass document feeder option, the series delivers swift digitisation with an industry-leading scan speed of up to 270 images per minute (ipm), and offers four different print speeds of up to 35 pages per minute (ppm) to meet varied operational needs.
Optimising Workplace Productivity
The iR C3226i combines a wide array of practical features to help in-office workers maximise productivity amid hybrid working. Built with a user-friendly 7-inch colour touch panel display, the MFD offers excellent visibility and easy navigation through various intuitive touch operations. The user interface (UI) presents a smart Timeline feature on the Home Screen that displays the history of settings used, helping users complete routine tasks with one-touch and reduce time spent on repetitive operations. The MFD also provides users with the ability to customise preferences, offering personalisation of initial display screen, display language and frequently-used functions. In addition to print speeds of up to 26 ppm, the MFD helps users work efficiently with various finishing options that lessen the manual collation of printouts, such as Eco-Staple, Staple-On-Demand and hole punching.
Elevating Workflow Efficiency
Pre-installed with Application Library, the iR1643i II and iR1643iF II feature a range of customisable shortcuts designed to help businesses streamline workflows. Users can create various one-touch solutions depending on individual work requirements, and automate time-consuming routine tasks. Notably, the Cloud Apps allow users to print from and scan to various cloud storage destinations, such as Dropbox™ and Google Drive™ easily without the use of personal computers (PCs). Converting multiple steps into a one-step operation, the MFDs help users simplify document workflows for added productivity in the hybrid workplace. The efficient MFDs also feature a remarkable print speed of 43 ppm, and high-capacity paper feed of up to 2,300 sheets to help businesses breeze through heavy workloads.
Availability
The iR-ADV DX C3800i series and the iR C3226i will be available at authorised Canon distributors and dealers from October 2021 onwards.