Canon Launches the New Océ Colorado 1650
Incorporated Océ FLXfinish Technology
for Matte or Gloss Prints Independent of Media​​​​​​​​​​
​​​​​​​​​​​​​​​​​​​​​​​​​​​​

​​​​​​​​​​​​​​
Canon unveiled the Océ Colorado 1650 printer at PackPrint 2019 in Bangkok, Thailand, expanding the range of roll-to-roll large format devices that feature Canon UVgel technology. The Océ Colorado 1650 features two innovations in the form of a new flexible ink, and Océ FLXfinish technology, which will boost quality standards for customers requiring more media versatility.
The new 64" production printer builds on the breakthrough productivity, output quality, never seen before automation and media versatility of the Océ Colorado 1640. It delivers optimal performance for print service providers (PSPs) producing high volumes of applications such as self-adhesive vinyls, wall coverings, canvasses, soft signage and vehicle graphics requiring a high degree of flexibility for mounting and framing.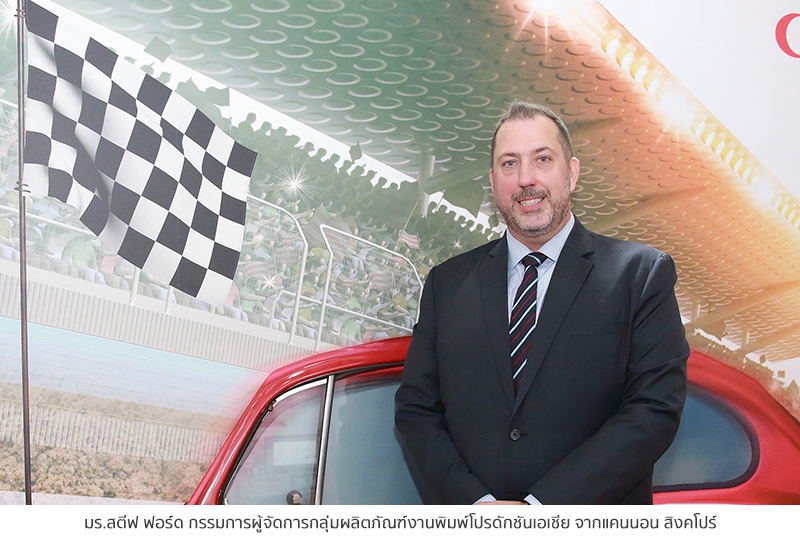 ​​​​​​​​​​​​​​
Mr. Steve Ford, Managing Director, Production Printing Asia, Canon said that we are very excited to introduce the Océ Colorado 1650 in Southeast Asia at the PackPrint 2019. By delivering consistently great quality, our large format graphics roll-to-roll and workflow solutions are helping print service providers to achieve operational excellence and extend their capabilities to new exciting applications. This allows them to focus their resources and energies on creating value for customers that will translate to sustainable business growth." said
The fact that we can now also offer the additional choice of matte and gloss prints at the push of a button is a very exciting development for graphics producers, enabling them to unlock new business opportunities in premium interior POS and décor, with a single printer and without switching media or inks. Mr. Steve concluded.

​​​​​​​​​​​​​​
​​​​​​​​​​​​​​
Océ Colorado 1650 – The Flexible Choice
​​​​​​​ The Océ Colorado 1650 works with a new version of Canon UVgel ink, designed for maximum flexibility by increasing the 'stretchability' of each cured ink droplet. This means output from the printer can be used for soft signage applications that require bending, folding or stretching.
In addition, the Océ Colorado 1650 incorporates Canon's unique Océ FLXfinish technology, a new approach to LED curing which allows the user to choose between matte or gloss modes for each individual print to achieve different aesthetic finishes, without the need to change inks or media. A gloss finish gives visual impact to applications such as banners and posters, while a matte appearance is particularly appealing for high quality indoor applications viewed in artificial light, such as wall coverings or premium instore Point-Of-Sale (POS) materials.
Océ FLXfinish technology also enables printing on porous media, such as uncoated papers, wallpaper as well as soft signage materials such as textiles and silicon-edged graphics, by enabling each ink droplet to be 'fixed' immediately on jetting, preventing absorption by the substrate.
The Colorado Series features exact positioning, enabling near perfect registration for double-sided printing and 'inside out' printing of media with the printable surface facing in, further boosting productivity and versatility.

​​​​​​​​​​​​​​​​​​​​​​​​​​​​
Fueling new opportunities ​​​​​​​​​​​​​​
​​​​​​​ Canon's theme for PackPrint 2019 is "FUEL EMOTION WITH PRINT" - based on the SPEED campaign built around the book from documentary photographer Horst A. Friedrichs which features images of British subcultures from the last two decades. This book was digitally printed on an Océ ProStream 1000 continuous feed inkjet press and Océ VarioPrint i-series high speed inkjet sheetfed press.
From applications such as direct mail, to purchase-boosting POS, through to interior décor which enhances the customer's brand experience, 'Speed' demonstrates print's key role in a multi-channel brand campaign and how emotion can be fueled with print.
Canon has exhibited a number of large format rigid print applications such as promotional and decorative signage, wood, photo and fine art prints printed on the Océ Arizona 1300 series, true flatbed UV LED printer. In addition, live roll-to-roll Océ Colorado series applications such as SAV, wall covering, vehicle graphics, floor graphics and POS displays will be demonstrated at the stand.

​​​​​​​​​​​​​​
For further information – https://th.canon, Tel. 0-2344-9988 or facebook.com/canon.thailand