New Canon ProStream 1800 and varioPRINTiX-series digital inkjet presses
offer superior print quality and cost effectiveness for large-scale printing businesses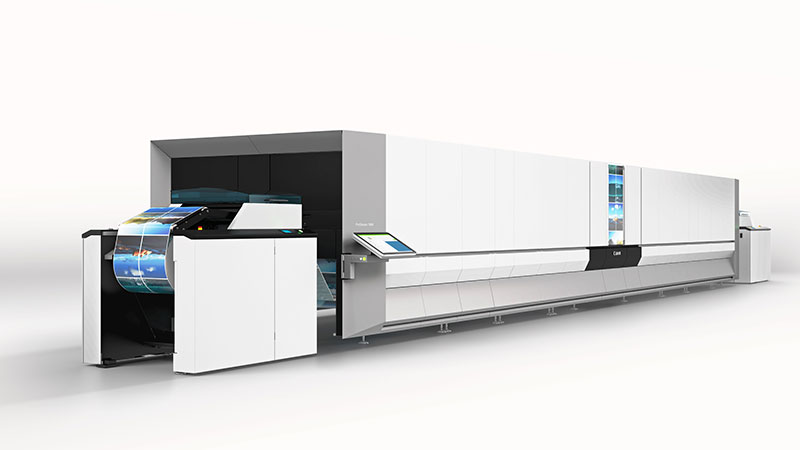 Canon is expanding into the commercial printing market with the launch of two new digital inkjet presses. The Canon ProStream 1800 continuous feed inkjet press, the newest model in the ProStream 1000 series, comes with increased speeds of up to 133m/min and boasts the highest resolution and print quality of any digital printing press at that speed, making it the ideal solution for commercial printing to achieve the ultimate performance. The other new product is Canon varioPRINTiX-series advanced sheetfed inkjet press that combines amazing print quality and the ability to support a wide range of media, capable of producing high volume of prints while reducing working processes and saving costs.
Combining new inkjet innovations with proven offset printing techniques, the ProStream 1800 strikes a unique balance between high productivity, superior print quality, flexibility and media versatility. Commercial printers can now boost production levels, slash turnaround times and increase profit margins across a wide range of applications, including premium and high volume direct mail, books, catalogues and magazines. With the higher speed of 133m/min, the press produces up to 107,500 A4 images or 11,300 B2 sheets 4/4 per hour while maintaining superior print quality and delivering higher throughput.
The ProStream 1800 can achieve a very high level of print quality across a huge range of media, including standard offset coated, uncoated and inkjet optimised papers from 40gsm to 300gsm. With the ability to print up to 556mm wide and 1,524mm long, this extends to print calendars, posters and point of sale applications. The ability to seamlessly switch between different format lengths, without the need to stop production, provides additional flexibility and ease-of-use for operators.
The press's air floatation drying system dries all jobs evenly, so you can effectively print on a wide range of paper without compromising the high standards of the finished output. The system also preserves the gloss and paper surface. Artificial intelligence linked to a sensor continuously makes adjustments to the drying system during the print run to ensure the best quality. In addition, the optimal temperature is maintained, which reduces energy consumption.
The ProStream 1800 uses native 1,200dpi piezo drop-on-demand print heads and proprietary polymer pigment inks with Canon ColourGrip to ensure colour consistency. Canon's Inline Quality Control also provides automatic print quality assurance, so operators can spend less time on quality control.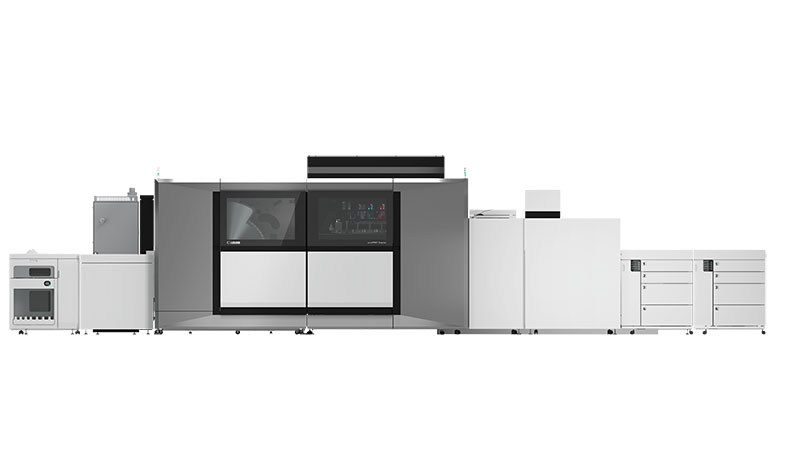 The varioPRINTiX-series combines the image quality and media range of offset with the productivity and cost efficiency of inkjet. It is capable of printing more than 9,000 SRA3 images per hour or 320 A4 images per minute on a wide range of media, including offset coated paper from 90 to 350 gsm. The full spectrum of commercial print applications, from marketing collateral and premium direct mail to catalogues, magazines and books can be produced at high volume. With more than 90% average uptime, the new press enables substantial productivity gains and measurable improvements in overall running costs compared to other cutsheet production print technologies.
The varioPRINTiX is equipped with the latest iQuarius technology for high-end image quality with smart image processor and 1,200dpi print heads for printing razor-sharp text and line details, smooth gradients and perfect tones. Advanced nozzle uniformity control technology helps prevent streakiness and is able to detect and auto-compensate faulty nozzles during the job and thus reduces downtime and waste, while ensuring high image quality. The press uses iX water-based inks and ColorGrip polymer pigment inks for outstanding, vibrant and robust colour on a variety of media, including coated stock up to 350gsm.
Its high-performance, media-versatile PRISMAsync print server enables advance scheduling of up to eight hours of production. Combined with PRISMA software, a completely automated and highly intuitive solution can be integrated into any existing workflow, covering every stage of production, from creation and print management through to finishing and delivery tracking.
For more information please contact Canon Call Center on 02-344-9988 or visit https://th.canon