Canon Supports Today's Hybrid Workstyles with Refreshed Lineup of Multi-function Devices
Enabling seamless hybrid working, the latest A3 monochrome multi-function devices
help businesses of all sizes maximise productivity in the digital workplace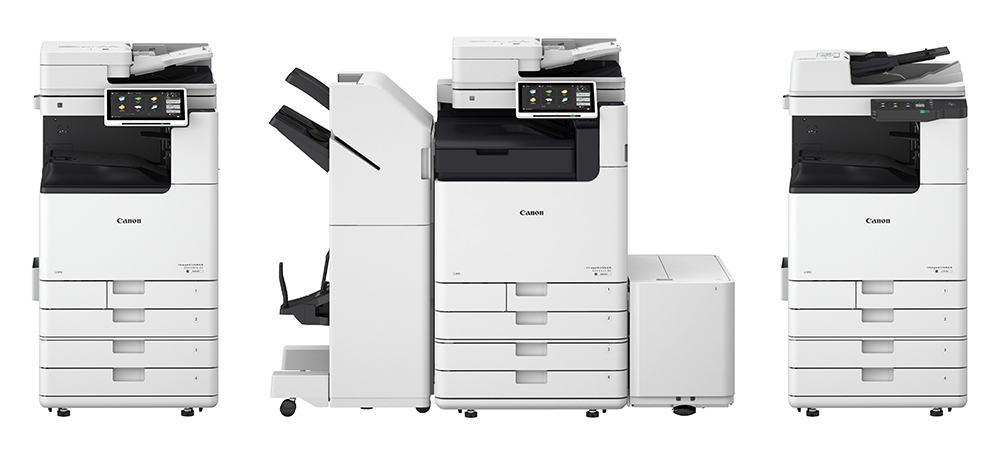 Canon announced the launch of the imageRUNNER ADVANCE (iR-ADV) DX 4800i series, iR-ADV DX 6855i and imageRUNNER (iR) 2700i series, an extensive lineup of A3 monochrome laser multi-function devices (MFDs) designed to support varying hybrid workstyles, in line with its "CANON Digital Workplace" vision. From small and medium-sized to large enterprises, the new MFDs offer businesses of all sizes the connectivity, productivity and security benefits of Canon's existing A3 MFD portfolio, alongside greater output capabilities. Enhancements include increased functionality through wider media support and various output finishings.
Mr. Ooi Chik Hoe, Vice President - Business Imaging Solution Division, Canon Marketing (Thailand) Co., Ltd., said "In line with our 2022 Digital Workplace vision, we aim to add more products to our Smart Workplace Solutions portfolio. To serve both individual customers and organizations, we provide smart solutions under 4 main product groups: 1. DX Solutions 2. NVS Solutions 3. Smart Workplace Solutions and 4. IT Solutions. The launch of A3 devices is part of our commitment to support Smart Workplace Solutions for Thai businesses of all sizes. In this era of uncertainty, we understand that enterprises and organizations are facing challenging situations. Nowadays, the printing solution of choice should be cost-effective, highly efficient, and easy to maintain. More importantly, it should also support the hybrid workplace to allow team members to collaborate effortlessly on the go. To support hybrid workers, we developed A3 MFD devices which are the ideal option for efficiency, high-quality printing and flexible cloud-based connectivity."
Highly Efficient Workflows for Hybrid Work Environments
Built with a smaller footprint, the iR-ADV DX 4800i series offers three different print speeds of up to 45 pages per minute (ppm) to meet varied operational needs in hybrid work environments. Expanding on the success of the iR-ADV DX 6800i series, the iR-ADV DX 6855i prints up to 55 ppm and comes with new options to support C and Z folding. In addition to swift print speeds, the MFDs provide hybrid workers with advanced scan functionality to perform in-office scanning tasks with greater workflow flexibility and information security.
The MFDs also integrate seamlessly with uniFLOW Online, a cloud-based print management solution that drives hybrid work efficiency. Based on pre-configured workflows, Filing Assist helps to automate batch scanning, naming, filing and routing of documents to various cloud destinations for further processing. The flexible cloud connectivity enables in-office and remote workers to collaborate effortlessly, while the automated process eliminates error-prone and time-consuming manual filing for improved productivity.
More Productive Workplace
Offering quick print speeds of up to 45 ppm, the iR2700i series combines a wide range of practical features to boost productivity in the hybrid workplace. Equipped with a user-friendly 7-inch colour touch panel display, the MFDs provide excellent visibility and easy navigation through various intuitive touch operations. The user interface presents a smart Timeline feature on the Home Screen that displays the history of settings used, helping hybrid workers complete in-office routine tasks with one-touch and reduce time spent on repetitive work.
Strengthening security amid hybrid working arrangements, the iR2700i series comes with McAfee Embedded Control, a standard security feature that effectively blocks the execution of unauthorised applications, and prevents tampering of existing firmware to better protect businesses against malicious attacks.
Availability
The latest iR-ADV DX 4800i series and iR-ADV DX 6855i will be available in July 2022, while the iR2700i series will be available in August 2022 at authorized Canon distributors and dealers.