Canon Teams Up With Thailand's Top Creators
to Showcase a Variety of Lifestyles through Canon EOS R5 C,
Canon's latest powerful hybrid camera that combines the best of cinema and still image systems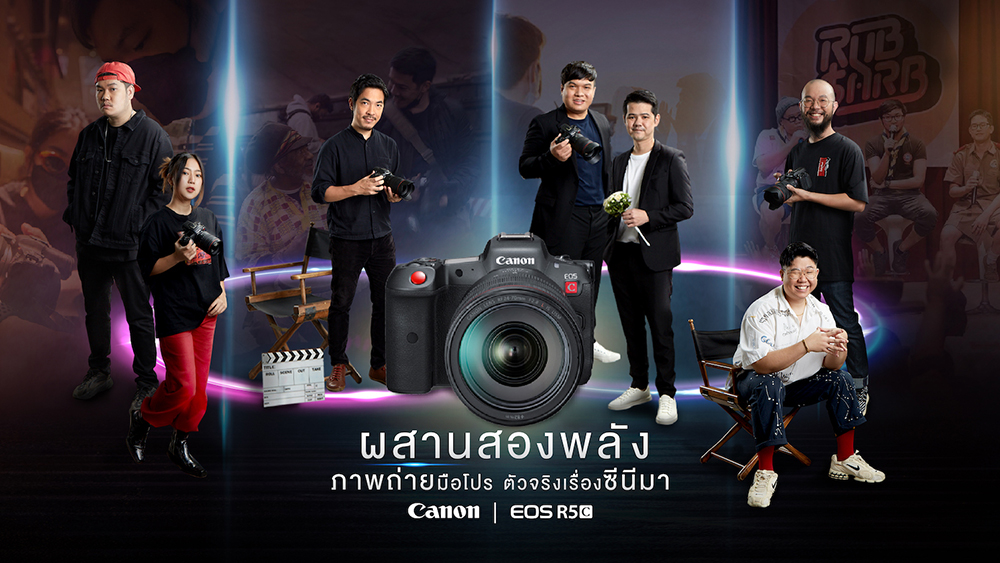 Canon Marketing (Thailand) Co., Ltd. "Canon" recently joined hands with four renowned content creators namely YUPP!, underDOC Film, Raksukyen Studios, and RUBSARB Production to create a high-quality short film project to tell inspiring stories and concepts based on various lifestyles through "Canon EOS R5 C," the new powerful hybrid camera with a full-frame sensor that combines the best of both professional video and still image capabilities. These four next-gen creators also revealed some behind-the-scenes production, their firsthand experience and their favorite features of Canon EOS R5 C which helped take their content creativity to the next level and overcome their limits towards ultimate professionalism.
Canon EOS R5 C is Canon's latest hybrid camera with a full-frame sensor that takes full advantages of both the EOS R System and Cinema EOS System in a single device, packed with impressive features for cinema-quality videos and high-quality still images to address the diverse needs of users, including advanced photographers and filmmakers. Ideal for any situation, Canon EOS R5 C is everything a professional needs for enhancing the quality of creating content for documentaries and movies, in a compact size of an average full-frame mirrorless camera.
4 Top Creators with Canon EOS R5 C Experience
YUPP!
YUPP!, a rising youth-run record label, created a striking travel vlog, featuring "Milli," a young Thai rapper known for her great talent and larger-than-life personality, during her trip to Los Angeles. The intriguing vlog is produced and directed by two creative minds of YUPP! — "Tar RTISTRYX," Creative Director and "Mangto," Music Video Director. Both explained the concept and told us about the behind-the-scenes, "Milli's LA triip gives a fresh perspective on her one-of-a-kind lifestyle with a more internationalized effect, allowing everyone to see her fierceness and star quality that shine through the lens."
Tar RTISTRYX and Mangto from YUPP! shared the features they loved about the EOS R5 C, "At the flick of a switch, the EOS R5 C allows us to easily shift from shooting a high-quality video to capturing beautiful stills, encapsulating all the meaningful moments during the trip. In addition, the autofocus feature that can accurately detect people's eyes and faces helps us portray Milli's unique charm and personality in every shot. Its compact and lightweight design also makes it a perfect travel companion while the Direct Touch Control function allows us to quickly change the settings on-the-go. Our most favorite thing about this camera is no other than the dual card slot, which supports simultaneous proxy recording to the SD card for a smoother post-editing process. These enable us to follow around MiI's life perfectly with just one single camera."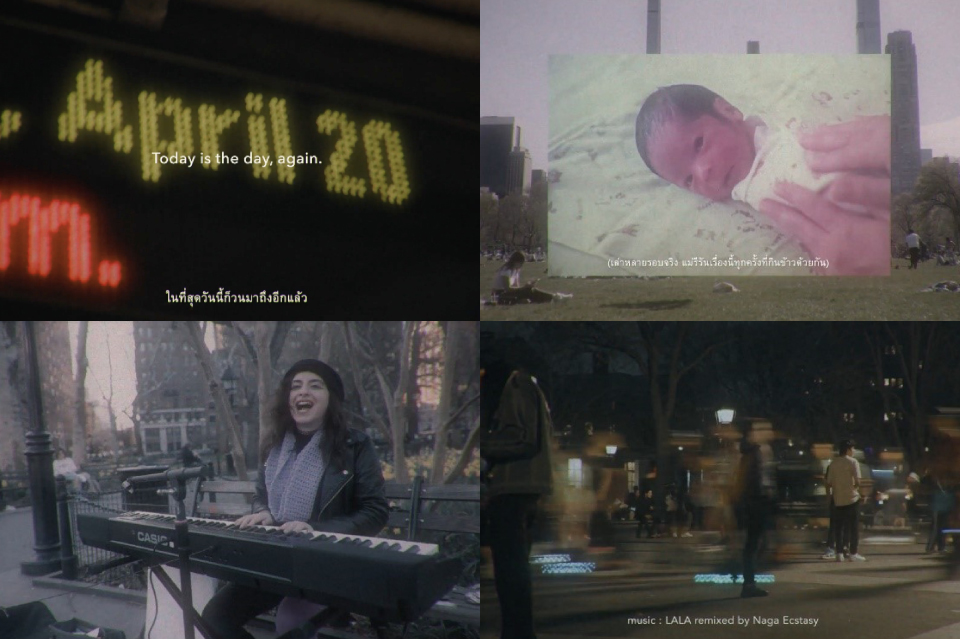 underDOC Film
Nottapon Boonprakob (Kai), an award-winning documentary filmmaker from the underDOC Film, together with his talented crew with over 10 years of experience, created a documentary entitled "HAPPY STRANGER'S DAY." The work revolves around one normal yet special day during a business trip to New York City. On the inspiration behind the film, Nottapon said "Good wishes and a birthday song from a stranger inspire people to pass on the power of happiness to others in a special and unforgettable day."
Documentary films require a full-featured professional camera that has the capability to turn imagination of the creator into the visual images he desires, and according to Nottapon, the Canon EOS R5 C was perfect for this. "You cannot control your surroundings while shooting, but the powerful features of Canon EOS R5C make documentary filmmaking a lot easier. My favorite functions include the responsive touch screen, Picture Style settings which enable customization for the film's tones and styles, as well as the camera's portable and compact design. The lightweight Canon EOS R5 C makes it perfect only for traveling but it also makes people being filmed less camera-shy and more expressive. The Direct Touch Control feature that allows you to manage all the settings with just a few clicks also comes in very handy when you shoot the film alone with no crew. The USB Type C power adapter (PD) also allows continuous recording without any interruption. When paired with a Canon RF lens using a Drop-in Mouth Adapter, the camera will have the ability to use ND filters to get the right exposure for the low light environment," said Nottapon.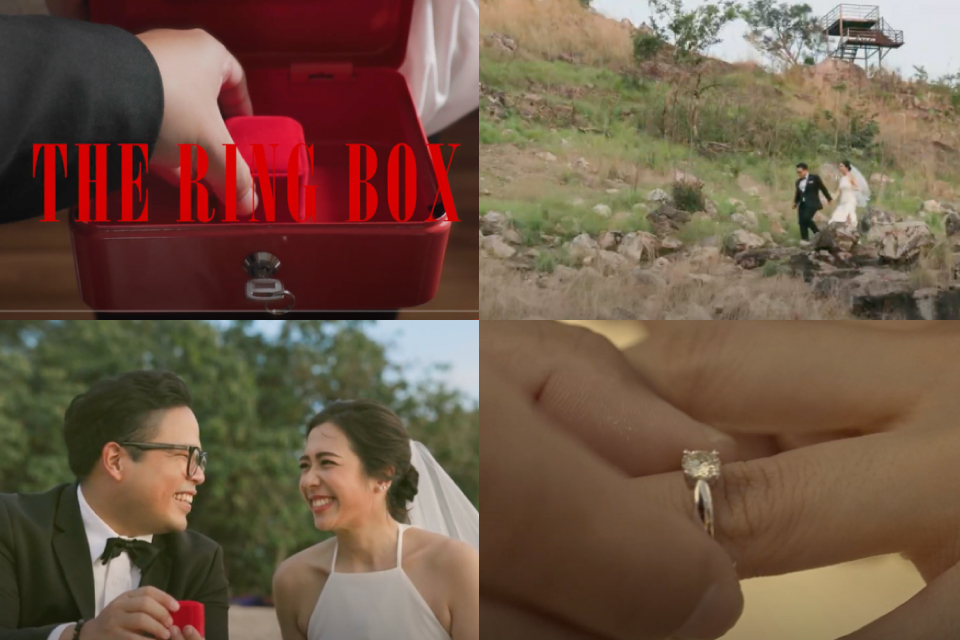 Raksukyen Studios
The wedding day is one of the most important moments in one's life. "Poon" and "Oam," video directors from Raksukyen Studios and former crew behind the success of GTH films that made 100 million baht at the box office, were tasked to transform ordinary wedding presentations into a creative short film. The duo captured impressive moments of the bride and groom in a Short Movie for Wedding Ceremony, telling a story of love, happiness, and precious memories throughout the couple's love journey.
"Even though our wedding film is a short one, the quality has to be top-notch because we want to create an everlasting memory for the bride and groom," said the directors. They also shared what they love about the Canon EOS R5 C, "It is a great camera for any high-production wedding videography and photography. As a still photography camera, it beautifully captured the natural and spontaneous emotions of the newlyweds. Additionally, it can record 8K video that allows cropping, panning, and zooming in to get a closer view of distant objects. The camera smoothly delivers 4K slow-motion up to 120fps. The accurate auto-focus system ensures we never miss any happy moments in both video and image formats. The camera also features a built-in cooling fan, allowing continuous shooting.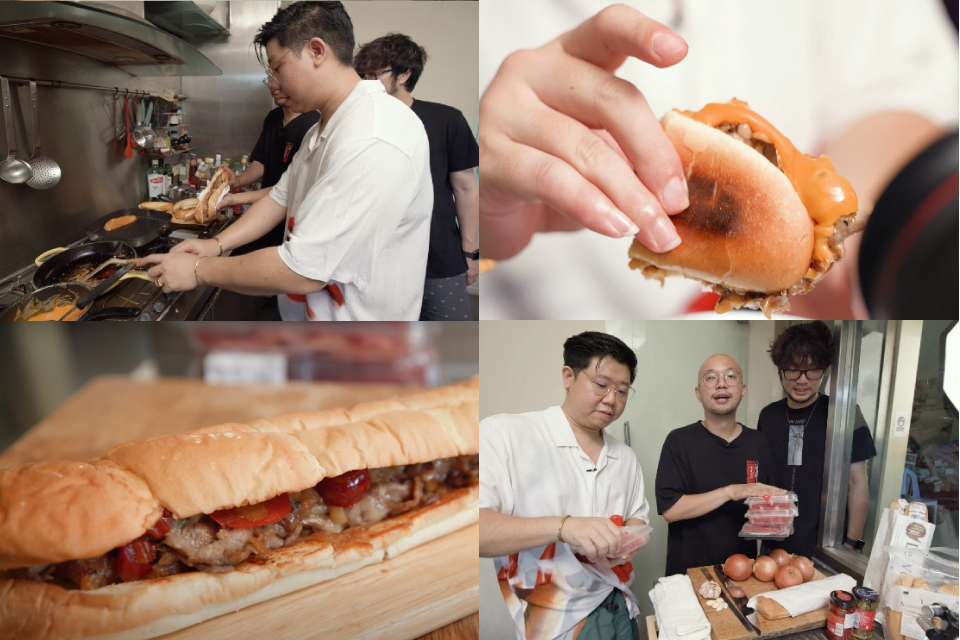 RUBSARB Production
Led by two legendary content creators George and Is-Issara, RUBSARB Production is a YouTube channel creating hilarious video content, currently attracting over 1.3 million subscribers. With inimitable uniqueness no one can copy, the duo filmed a special episode of their cooking show "Ggcooking," with comic elements and uncompromising production quality. George and Is-Issara said, "This episode is guaranteed to stir your sense of hunger and humor at the same time with its special recipe and high resolution of yumminess."
The duo said the Canon EOS R5 C took their video production to the next level. "Filming our food video in 8K has opened a new perspective for us. The fast and reliable autofocus system helps us achieve pin-sharp food footage while the Dual Sensing IS enhancing image stabilization performance. The camera also comes with user-friendly 13 assignable buttons and 2-in-1 video and image interface, perfect for high-quality videography and photography."
Canon wishes to invite the fans of these four creators as well as professional camera enthusiasts to check out the four film projects at Canon's Official Facebook Page: Canon EOS R Thailand.
Explore Canon EOS R5 C's features with the four creators: https://bit.ly/3e0DWov
Raksukyen Studios and their creative wedding presentation film THE RING BOX Wedding: https://bit.ly/3QqUsNa and check out the behind the scenes at https://bit.ly/3QnLrUW

RUBSARB Production and their 8K food video: https://bit.ly/3T35QjO and the mouth-watering behind the scenes at https://bit.ly/3wCPIMD
underDOC Film: The film and the behind the scenes will be available in September 2022
YUPP!: The film and the behind the scenes will be available in October 2022
Check out Canon EOS R5 C brochure at https://th.canon/th/consumer/eos-r5-c/brochure