Hybrid Extraordinaire: The RF24-105mm f/2.8 L IS USM Z
Redefines the Professional Standard Zoom Lens
Combined with the new Power Zoom Adapter PZ-E2, smooth zooming for video production can be achieved.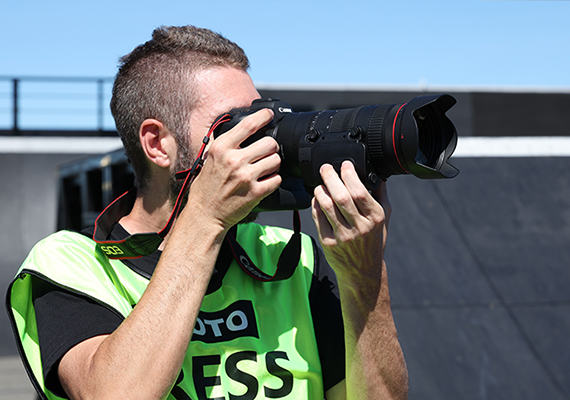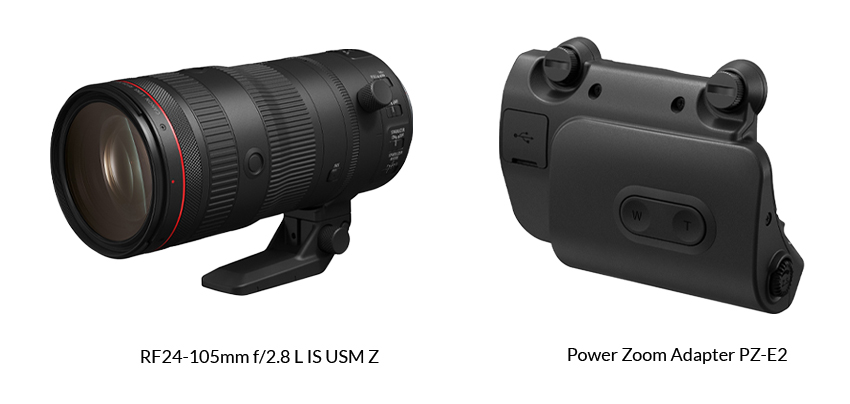 Canon today announced the RF24-105mm f/2.8 L IS USM Z, a new professional standard zoom lens for the RF mount, and the Power Zoom Adapter PZ-E2, a compatible accessory that offers smooth, precise zoom control for video creators.
Building on the versatility that makes a standard zoom lens an essential for creators, the new lens blends the best features of two of Canon's professional RF standard zoom lens classics into one body: the wide focal range of the RF24-105mm f/4L IS USM, and the outstanding optical quality and large maximum aperture of the RF24-70mm f/2.8L IS USM. At the same time, it also introduces new design features that meet the needs of professional video creation, such as the RF lens lineup's first iris ring, a feature usually found on cinema lenses.
"Offering greater flexibility in one lens body, the RF24-105mm f/2.8 L IS USM Z is designed to cater to the evolving creation landscape, where users need to create both high-quality still photos and videos," said Netnarin Chancharassuk, Director of Consumer Imaging Information Group, Canon Marketing (Thailand) Co., Ltd. "The Power Zoom Adapter PZ-E2 will enable video creators to take full advantage of the RF24-105mm f/2.8 L IS USM Z's zoom capabilities in their creative expression, even if they are working alone."
---
Zoom Closer, Shoot Wider
The RF24-105mm f/2.8 L IS USM Z provides a constant maximum aperture of f/2.8 over its entire 24-105mm focal range, with stunning image quality to support high-resolution photography and 8K or 6K video throughout. Users can enjoy greater flexibility in both composition and exposure settings across a wide variety of subjects, especially when shooting in low light conditions or creating bokeh.
As the first-ever RF lens to feature an iris ring usually found on cinema lenses, it enables silent, intuitive aperture control with smooth torque, ideal for adjusting exposure and bokeh effects during video recording.
Beautiful circular bokeh can be achieved even with a narrower aperture setting via the lens' 11 circular diaphragm blades—more than that on any other existing RF lens.
---
Steady, Consistent Focusing even During Zooming Sequences
Compared to existing RF professional standard zoom lenses, the RF24-105mm f/2.8 L IS USM Z offers better control over the focus fluctuations that tend to occur during zooming. This is due to optimised optical, mechanical, and electrical control including the adoption of two individually driven Nano USMs. Users can enjoy steadier, more consistent focusing when operating the zoom during video or high-speed burst shooting.
The lens also supports focus breathing correction during video shooting on a compatible camera. Users can expect seamless footage even when pulling focus from the closest focusing distance of 0.45m to a position located further away.
---
Powerful Image Stabilisation with Telephoto Lens-like Controls
The built-in Optical IS alone corrects camera shake by up to 5.5 stops' equivalent1; when combined with Coordinated Control IS on a camera body with In-Body IS, performance increases to up to 8 stops' equivalent2. Sharp, stable images can be captured even at a slower shutter speed, enabling both handheld still and video shooting in low light conditions.
The RF24-105mm f/2.8 L IS USM Z is also the first standard zoom lens to feature the 3-mode IS mode switch usually found on telephoto lenses, so users can easily change IS modes to suit the situation.
---
Designed for Smooth Operation
The RF24-105mm f/2.8 L IS USM Z features a fixed-length lens barrel design, ideal for video shoots that use a gimbal or rig as the centre of gravity remains consistent even during zooming.In addition to the iris ring and IS mode switches, a new, customisable lens function button provides users with a programmable shortcut to their most-used functions, allowing faster response to changing shooting conditions.
The lens is bundled with a new tripod mount that can be easily attached and detached without special tools. A lens holder, LH-E1 (sold separately) that holds the lens on a rig system is also available.
---
The Durability of an L-lens
As a professional L-series lens, the RF24-105mm f/2.8 L IS USM Z inherits the reliable build of other lenses in the series, including dust and dirt-resistant fluorine coating on the front lens surface, as well as dust- and drip-resistant weather sealing to withstand unpredictable weather conditions.
---
Sophisticated Single-Operator Control
The Power Zoom Adapter PZ-E2 enables single-operator smooth, precise zoom control during videography. By simply pressing a button, even budding videographers can easily achieve seamless zooming unassisted. Fine control over the zoom speed is available through a dial, so users have greater flexibility to set a speed that suits their creative direction, be it high-speed zoom action, slow, gradual zooming, or in between. Zoom speed can be increased by using an external power supply through the USB Type C port, instead of drawing power from the camera.
A detachable thumb rest and ergonomically placed buttons allow for comfortable handheld operation. Designed to be compact, lightweight, and easy to transport, the Power Zoom Adapter PZ-E2 can be easily attached and removed without special tools even when the lens is combined with a rig, gimbal, or tripod.
1 When focal length is 105mm, combined with EOS R. For yaw and pitch directions only.
2 When focal length is 105mm, combined with EOS R3. For yaw and pitch directions only.
APPENDIX
Model
RF24-105mm f/2.8 L IS USM Z
Focal Length
24-105 mm
Maximum Aperture
f/2.8
Minimum Focusing Distance (m)
0.45
Maximum Magnification
0.08x (f=24 mm),
0.29x (f=105 mm)
Lens Construction
23 elements in 18 groups
Filter Size Diameter
Ø82mm
Aperture Blades
11
IS (CIPA Standard Correction Effect)
Yes (up to 5.5 stops)
Coordinated Control IS (With In-body IS equipped Camera)
Yes (up to 8.0 stops)
Maximum Diameter and length
approx. 88.5 mm × 199 mm
Weight
Approx. 1430g