Canon's Lightest Ultra-Wide-Angle Zoom Lens Expands Options for APS-C Users
Canon's widest lens for APS-C users will be an asset for vast scenes, shooting in tight spaces, and handheld vlogging.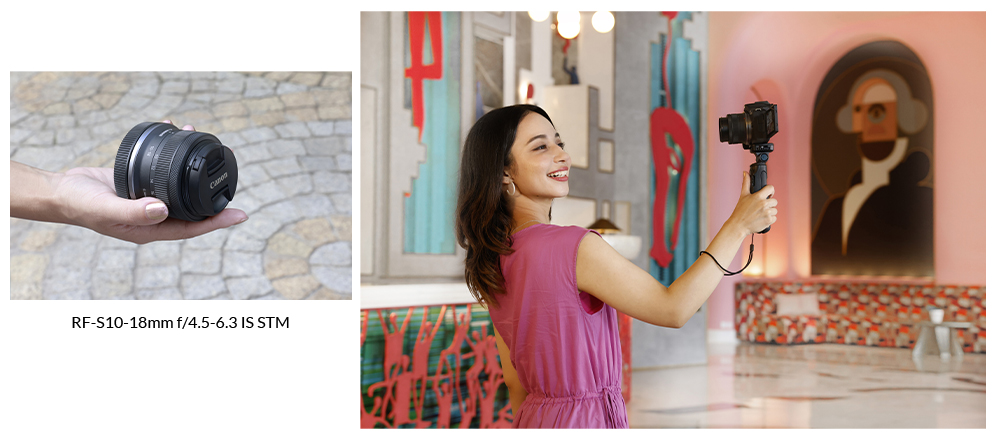 Canon today announced the RF-S10-18mm f/4.5-6.3 IS STM, a new ultra-wide-angle zoom lens designed for APS-C EOS R cameras. Compact and lightweight to match APS-C camera bodies, it has a smaller footprint compared to its EF-S and EF-M counterparts. Its 16mm to 29mm full-frame equivalent focal range offers ultra-wide coverage ideal for travelogs, selfies, and shooting in tight spaces.
"With the growing popularity of our EOS R system, we are constantly working on expanding our affordable APS-C EOS R system lineup. With this lens, APS-C EOS R users can now shoot from ultra-wide angle to telephoto, which will expand their range of creative expressions." said Netnarin Chancharassuk, Director of Consumer Imaging Information Group, Canon Marketing (Thailand) Co.,Ltd.
---
A Pint-sized Lens for Travel and Handheld Vlogging
Just 44.9mm long when retracted and weighing only around 150g, the RF-S10-18mm f/4.5-6.3 IS STM is around 40% shorter and lighter than its EF mount counterpart, the EF-S10-18mm f/4.5-5.6 IS STM (approx.72mm, 240g), and trumps even the nifty EF-M11-22mm f/4.5-5.6 IS STM (approx.58.2mm, 220g) in portability. Its size makes it easy to stabilise during handheld vlogging, with its ultra-wide angle of view capturing both the vlogger and surrounding scenery in the same frame, rendering a selfie stick unnecessary.
Its featherweight and tiny size also makes it a convenient addition to a travel camera kit. While you may barely feel its weight on hikes and long walks, it will certainly come in handy for capturing the stunning view that awaits!
---
Sharp, Steady Images Even in The Dark
The RF-S10-18mm f/4.5-6.3 IS STM delivers sharper, steadier images even in low light condition. With built-in Optical Image Stabilizer (Optical IS), camera shake can be reduced by up to 4 shutter speed stops' equivalent1, so images are less likely to be blurry even when the shutter speed slows. When combined with a camera with In-Body IS such as the EOS R7, Coordinated Control IS enhances the effect to up to 6 stops' equivalent2.
For video shooting, Optical IS coordinates with in-camera Movie Digital IS3 to achieve steady, natural footage for shooting while walking, so you can film your travelog with minimal equipment. Three-way Coordinated Control IS with In-Body IS-equipped cameras further enhances the effect.
---
Unique Wide-angle Close-ups
Taking close-ups of small objects with background details is possible with the lens' 0.14m closest focusing distance throughout the entire focal range, which achieves a maximum magnification of up to 0.23x when autofocus is enabled. One can turn off the AF at the 10mm mark to shoot even closer (closest focusing distance: 0.086m) and achieve half-macro (0.5x max. magnification) shots with the unique Centre Focus Macro effect.
---
Crisp Image Details Up to The Edges
Despite its lightweight body, the RF-S10-18mm f/4.5-6.3 IS STM delivers image quality that surpasses its bigger EF-S counterpart. The RF mount's short back focus enables a lens configuration that optimises image quality while minimising the number of elements, keeping ghosting, chromatic aberration, and colour blurring well under control. Ornate details are rendered in crisp quality all the way to the edges.
---
Optimised Focusing
Autofocus is driven by a leadscrew-type STM (stepping motor), which enables smooth, seamless focus transitions during video recording. The lens also supports Focus Breathing Correction, which digitally corrects the distracting changes in angle of view caused by focus movement when recording video.
1 Focal length 18mm, when using EOS R10, Yaw/Pitch axes.
2 Focal length 18mm, when using EOS R7, Yaw/Pitch axes.
3 On compatible cameras. When using Movie Digital IS, the shooting range becomes narrower.
APPENDIX
Model
RF-S10-18mm f/4.5-6.3 IS STM
Focal Length
10-18 mm
Maximum Aperture
f/4.5-6.3
Minimum Focusing Distance (m)
0.14 (AF, f=10-18mm)
0.086 (MF, f=10mm)
Maximum Magnification
0.23x (f=18 mm),
0.5x (f=10 mm)
Lens Construction
12 elements in 10 groups
Filter Size Diameter
Ø49mm
Aperture Blades
7
IS (CIPA Standard Correction Effect)
Yes (up to 4.0 stops)
Coordinated Control IS (With In-body IS equipped Camera)
Yes (up to 6.0 stops)
Maximum Diameter and length
approx. 69 mm × 44.9 mm
Weight
Approx. 150g