Canon's "PrintHOW Bangkok 2022" conference sheds light on
how the industry can thrive in a world shifting from offset to digital printing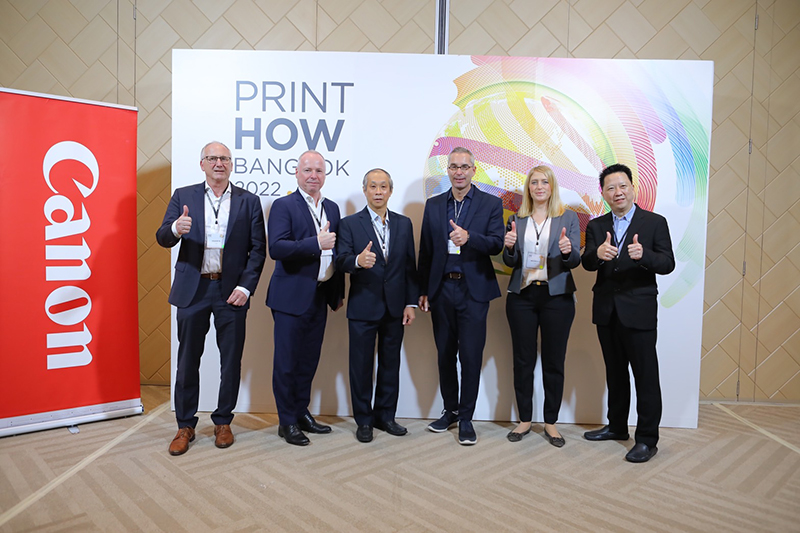 Canon recently hosted PrintHOW Bangkok 2022, a popular conference where the latest trends, know-how and innovations in the print industry are shared to help businesses quickly adapt to new demands and embrace new opportunities. Organized for the first time in Thailand, the sixth edition of Canon's PrintHOW focused on transitioning from offset to digital printing. Post-pandemic trends affecting the demand and key drivers for efficient, sustainable print businesses were among the topics covered during the inspiring event. Some conference highlights included a business case study of Thailand's Chulalongkorn University Press that successfully shifted from offset to digital.
Held on 18 October at Bangkok's Queen Sirikit National Convention Center, the conference drew a large audience of Canon's local partners and customers, as well as members of printing associations. PrintHOW Bangkok also welcomed partners from Korea, Singapore, Malaysia, the Philippines, and Sri Lanka. Thailand was chosen to host the event thanks to the country's strong business potential and growing print industry. The event was staged alongside Thailand's largest book-selling event, Bangkok National Book Fair 2022, where attendees were given a first-hand glimpse of Thailand's commercial print landscape.
During his welcome address, Mr. Philip Chew, Director of Canon Production Printing, Canon Singapore, explained that the pandemic had accelerated digitalization across industries and the production print sector was no exception. According to Mr. Chew, the print industry is facing challenges due to changing demands.
Mr. Peter Wolff, Chief Marketing Officer and Senior Vice President of Canon Production Printing, discussed why the printing industry must prioritize digital transformation and sustainability to thrive in the world of change. He also stressed that, to create a real impact and optimize the entire chain, many sectors must cooperate: "At Canon, we work closely with our customers to ensure that the journey towards digital is smooth and worthwhile. With our long-standing expertise and a complete range of business solutions, we are well equipped to help businesses grow amidst challenges."
Ms. Michaela Sygusch, Director of Regional Business Management and Mr. Christoph Gauss, Marketing Director, Canon Production Printing, explained to the audience how the rise of short-run jobs, customization and automation has driven the success of digital printing. Modern inkjet printing technology, they said, enables short runs with fast turnarounds without compromising quality and they described how leading publishing houses in the United States and Europe are gearing up for on-demand printing, which allows them to save money and reduce waste.
Providing a local perspective, keynote speaker, Professor Dr. Aran Hansuebsai, Advisor at the Chulalongkorn University Press (CU Press), shared Southeast Asia's printing trends with the attendees: "According to Smithers, three ASEAN countries namely Indonesia, Vietnam and Thailand are among the ten fastest-growing print markets."
Dr. Aran also outlined the issues facing the Thai printing industry and how digital printing can help address these challenges. "The main threat for production printing," he said, "is the fact that the industry is in transition - from mass production to small, scalable prints with short runs. COVID-19 has taught us to be leaner and more efficient in order to survive."
Founded in 1977, Chulalongkorn University Press (CU Press) is a publishing house for academic books in the Thai market. Due to tough competition in the printing industry, CU Press saw opportunities for digital transformation to stay at the forefront of emerging trends and embrace new commercial opportunities. "Following the implementation of the new Canon ColorStream 6700 Chroma digital inkjet press," explained Dr. Aran, "CU Press is now capable of delivering short-runs, fast turnarounds, and high-quality jobs at lower prices. The new inkjet press also supports our mission to become a carbon-neutral business, thanks to the eco-friendly water-based inks, less energy consumption and carbon energy reduction throughout the entire printing process."
According to Dr. Aran, governments around the world, including Thailand's, are instructing businesses to put sustainability at the heart of their operations. Digital printing can drive efficiency, allowing shorter print runs and minimal print waste. As the world becomes greener, the print industry must transform to digital to grow sustainably.
The conference ended with a comprehensive tour of CU Press, where participants were inspired by state-of-the-art printing innovations that allow the publishing house to rapidly deliver a wide-ranging variety of print jobs.