Canon Redefines Service Support for Corporate Customers with Smart eServices1
With the focus on streamlining support processes and optimizing efficiency for businesses,
Smart eServices combines advanced monitoring systems, predictive analytics and proactive maintenance strategies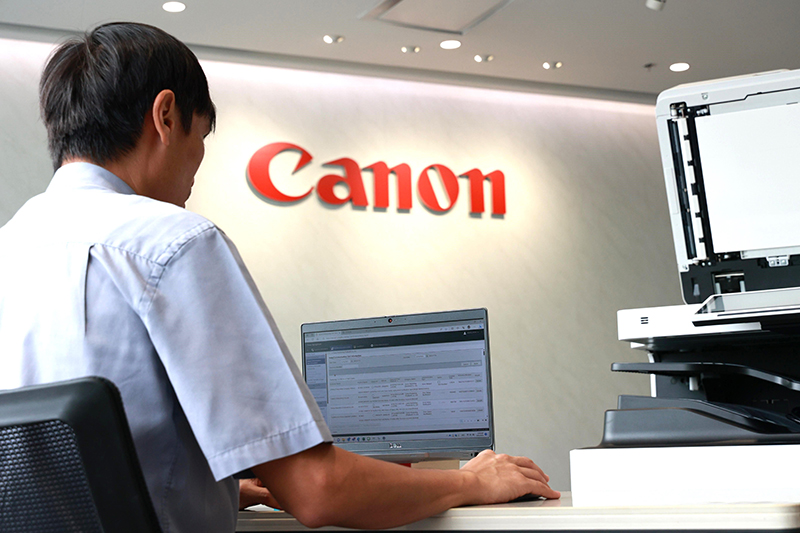 Canon today announced the launch of Smart eServices, aimed at providing enhanced field service support to corporate customers in Asia2. Smart eServices is a comprehensive suite of service support capabilities designed to enhance our corporate customers' experience at every stage of device lifecycle.
"Imagine Smart eServices as a digital guardian of our latest connected devices. By analyzing vast amounts of historical and real-time data, our system can identify patterns, detect anomalies, and make accurate predictions regarding customer issues and service requirements. This new service capability redefines the way customer support is delivered, at every stage of a connected device lifecycle", said Mr. Ooi Chik Hoe, Vice President - Business Imaging Solution Group, Canon Marketing (Thailand) Co., Ltd.
Key capabilities and benefits of Smart eServices include :
Rapid Installation
By leveraging cloud platforms, Canon's Installation Support Service (ISS) simplifies the distribution and synchronization of device settings and configurations, ensuring accurate and consistent setups swiftly during deployment.
---
Remote Monitoringe
Maintenance3 leverages advanced diagnostic technologies to proactively monitor and manage Canon devices remotely and in real-time. It tracks the usage of consumables and sends alerts when supplies are running low. This feature helps businesses to minimize downtime due to toner shortage and ensures smooth printing operations.
---
Predictive Scheduled Maintenance
Through the integration of sensors and diagnostic tools, Canon's latest imageRUNNER Advance DX series can collect and analyze various data points to detect potential issues before they escalate into major problems. This proactive approach empowers service engineers to take preemptive measures and prevent unnecessary disruptions to customers' printing environment.
---
Remote Collaboration using Merged Reality
Utilizing merged reality technology, the Virtual ASSIST function connects the on-site engineer or user with a remote expert, allowing them to share a merged reality experience. Through a mobile device, the service engineer can visualize digital instructions, annotations, and virtual objects overlaid onto the real-world environment, making the troubleshooting process more efficient and precise.
---
Performance Analytics
With Canon's eBusiness Portal support platform, customers gain access to a range of self-service options and are empowered to monitor multiple Canon devices from a single interface. This includes visualization of device usage trends, maintenance activities, as well as perform transactions such as online service request, retrieval of invoices, etc.
Smart eServices is a complementary value-added solution to provide customers with a seamless and efficient experience, by ensuring their devices are in optimal condition. For more information about Smart eServices service support capability, please visit here.
---
1 The supported devices for Smart eServices may vary based on the specific service provider. As of July 2023, Smart eServices are available for Canon imageRUNNER ADVANCE DX series.
2 Covering Singapore, Malaysia, Thailand, India, Hong Kong, Philippines and Taiwan.
3 The supported devices for eMaintenance include Canon imageRUNNER Advance DX, imageRUNNER Advance, imageRUNNER and imagePRESS series.