Canon Unveils the new Canon imagePRESS V1000
Expanding into Digital Printing Market with New Printing System that Deliver
Exceptional Versatility and Productivity for the Printing Industry
Canon Marketing (Thailand) Co., Ltd. (Canon), a global leader in digital imaging, announced its continued efforts to make further inroads into the digital production printing market with the launch of its latest cut-sheet digital colour press - Canon imagePRESS V1000. The new imagePRESS V1000 is designed to help commercial and in-house print service providers (PSPs) enhance their work efficiency with the latest printing innovation that delivers brilliant, high-quality colour prints. The company also revealed its plans to add more products to the next-generation production print lineup that supports an extensive range of applications as well as a variety of media. The launch is aimed at meeting the increasing demand from PSPs for digital-ready printing solutions. Canon Marketing Asia also believes that the powerful productivity of the new digital printing systems will meet the changing printing trends in Thailand — one of Canon's major markets in Southeast Asia.
Mr. Ooi Chik Hoe, Vice President — Business Imaging Solution Division, Canon Marketing (Thailand), said "As businesses around the world resume their operations after a long pause, the printing industry is facing new challenges with tougher competition. Despite changing demands, customers still look for high-quality prints. Today, we are proud to launch Canon imagePRESS V1000 to the Thai market. We invited over 40 Thai print service providers to experience the Canon imagePRESS V1000 and its powerful features. The providers also joined the discussion on digital printing technology with Canon's product specialists. As a global leader in imaging solutions, Canon places great importance on exceptional product service. We are ready to partner with Thailand's PSPs to help facilitate printing for all, under Canon's 'Business Can Be Simple' concept."
Mr. Tode Katsuya, Assistant Director, Canon Marketing Asia, gave insights on future production printing trends and Canon's readiness to penetrate the production printing market. Mr. Katsuya also said Thailand remains an important market for Canon. "The Canon imagePRESS V1000 we launched today is the first in the next-generation imagePRESS lineup. More products in this series will be launched into the market in the future to meet the rising demands from printing businesses in Thailand and the region. Empowering print service providers to efficiently realize high-volume printing, the versatile Canon imagePRESS V1000 prints on a wide variety of media and produces a comprehensive range of applications — from business cards and direct mails to booklets, banners, and other creative marketing collaterals. Additionally, Canon imagePRESS V1000 delivers maximum productivity and reduces costs and turnaround time, allowing providers more time to explore new business opportunities," said Mr. Katsuya.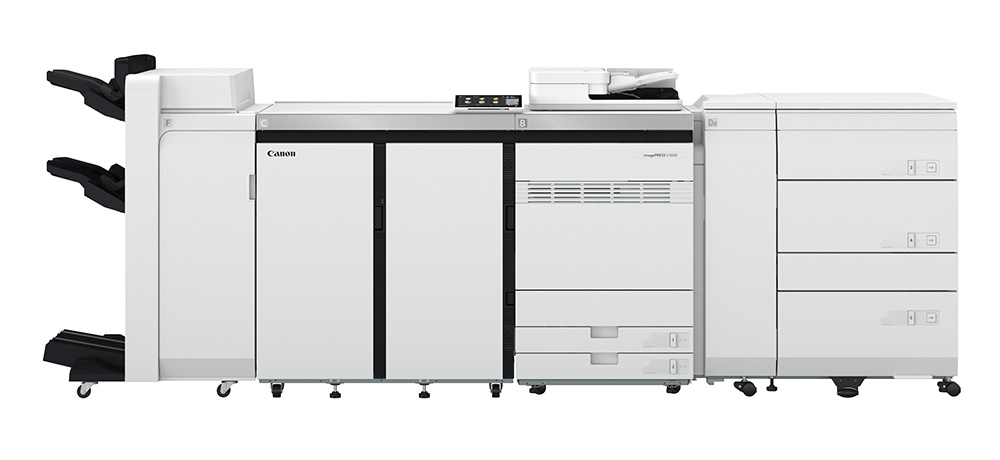 Canon imagePRESS V1000 features proven productivity, quality, and media versatility, equipped with innovative technologies including:
Inline Spectrophotometer (ILS) allows operators to easily print accurate and consistent work and perform advanced colour adjustments such as engine linearisation, colour profile creation, G7® calibration, and more. The Canon imagePRESS V1000 also comes with two controller options: the PRISMAsync Print Server and the imagePRESS Server D3000, providing hands-off automation with ease.
POD-SURF (Surface Rapid Fusing) integrated with Canon imagePRESS V1000 effectively maintains a consistent print speed of 100 ppm on coated and heavy media types up to 400 gsm, sustaining high efficiency when printing complex and mixed media jobs. The Multi-Drawer Paper Deck also boosts the paper input capabilities to create a wide array of premium applications. For uninterrupted printing, operators can also change toner while keeping the machine running.
Cooling Unit is an innovative system that cools paper immediately after printing. Minimizing the risk of warping, sticking, or bricking, the new cooling system helps avoid potential waste for the best cost-efficiency. Moreover, the new paper feeding technology also ensures consistent colour distribution even when operators switch between different media types during printing.
The Canon imagePRESS V1000 is equipped with more features to deliver high-quality print allowing PSPs to meet new market demands and take their businesses to the next level. For more information on this new printing system and other high-quality printing solutions. please reach out to Canon's authorized service centers nationwide or contact Canon Call Center at 02-344-9999 or businesscanbesimple@cmt.canon.co.th.