Firmware Update Notice for PIXMA MG7170, PIXMA MG6470, PIXMA MG5570, PIXMA MG3570, PIXMA E560, PIXMA MX477, PIXMA MX537, PIXMA iX6870 and PIXMA iP8770 (Security Enhancement)
Thank you very much for using Canon products.
Canon continuously strives to provide our customers with high security products that can be used with confidence. We offer new firmware update for Canon inkjet printers (with network access only) launched after 2nd half 2013.The firmware update adds in a new security enhancement function to the Remote UI (*1) functionality and prevent unauthorized users from changing the printer's settings. Internet connection must be available in order to download the firmware update from the printer.
Applicable models:
| | |
| --- | --- |
| Model Name | Starting new firmware version |
| PIXMA MG7170 | Ver. 4.030 or later |
| PIXMA MG6470 | Ver. 3.080 or later |
| PIXMA MG5570 | Ver. 3.080 or later |
| PIXMA MG3570 | Ver. 1.090 or later |
| PIXMA E560 | Ver. 1.030 or later |
| PIXMA MX537 | Ver. 3.060 or later |
| PIXMA MX477 | Ver. 3.060 or later |
| PIXMA iX6870 | Ver. 1.050 or later |
| PIXMA iP8770 | Ver. 1.050 or later |

How to update firmware:
Please click the firmware update of each model and follow the instructions. After the firmware is updated, the administrator password is not set by default. Setting password is as follow:
Security Enhancement Function:
The security option to set the administrator password has been added to the Remote UI menu. By setting the administrator password, you can protect your printer settings from being changed by unauthorized persons other than the administrator.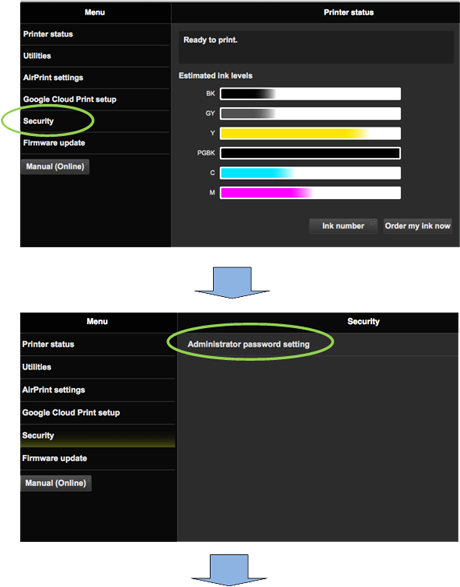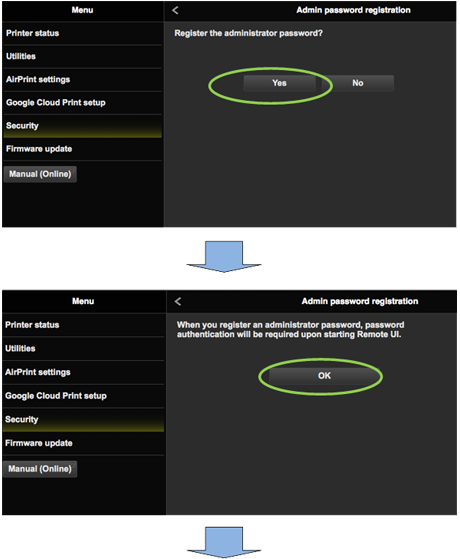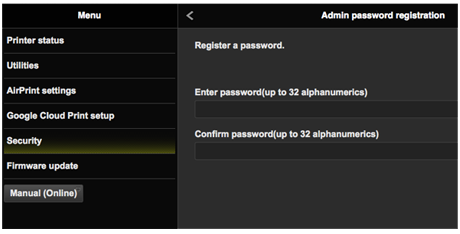 Set a desired password up to 32 alphanumerics.
The password is case-sensitive.
Remember the password.
*1: Remote UI The service where you can check the printer information or use the utility programs via PC or smartphone, etc.
Contact Information for Your Inquiry
For information on this matter, please contact your nearest Canon Customer Service Centre.