Canon Earns Prestigious Award for Two Decades of Green Label Certification,
Reinforcing Dedication to Eco-Friendly Products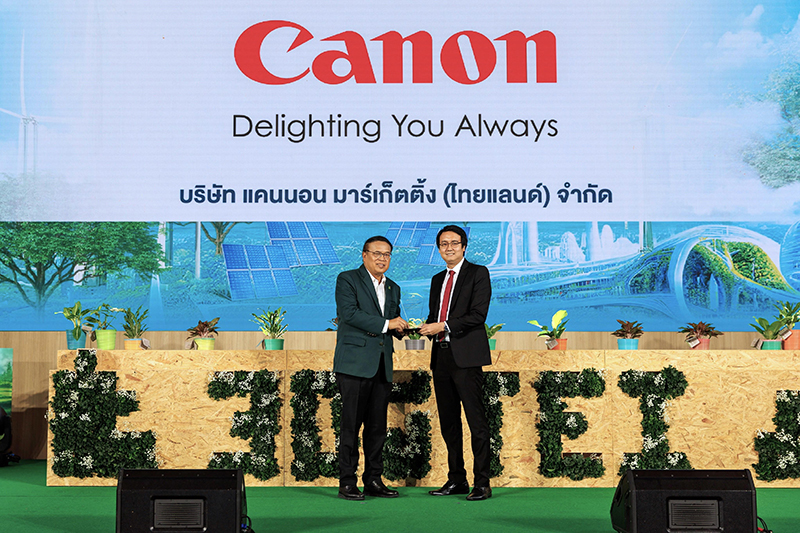 Canon Marketing (Thailand) Co., Ltd., a global leader in digital imaging technology, was honored with the prestigious trophy presented by Dr. Wijarn Simachaya, President of the Thailand Environment Institute. This recognition underscores Canon's remarkable accomplishment of achieving a Green Label for an impressive 20 consecutive years, solidifying its unwavering commitment to environmental responsibility. In 2023, Canon expanded its Green Label certification to encompass an impressive range of 22 photocopier models, providing consumers with the assurance of its dedication to sustainability. Mr. Wiphop Laorungsinchai, Marketing Manager, accepted this certificate of honor on behalf of the company during the event commemorating the 30th anniversary of the Thai Environment Institute.
Mr. Wiphop Laorungsinchai, Marketing Manager, Canon Marketing (Thailand) Co., Ltd. said "We are deeply honored to receive this trophy from the Thai Environment Institute, recognizing our enduring commitment to conducting business with a focus on both society and the environment for the past decades. Our dedication extends to producing top-notch products and pioneering technology that promote sustainability at every stage, from our eco-conscious manufacturing processes to energy-efficient machine functionality and eco-friendly consumables. Our ultimate goal is to contribute to a brighter world for generations to come."This prestigious award serves as a testament to Canon's leadership in green technology, driven by its 'Kyosei' philosophy that emphasizes collaborative efforts for the greater good. This approach involves working together to create a harmonious and sustainable future for all.